Perform your own miracle, turn water into wine with iOS and Android app
3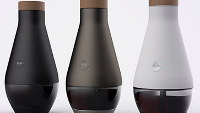 UPDATE:
It has been brought to our attention that the Miracle Machine described below doesn't really exist. It is just an imaginary device, promoted in order to draw attention towards a campaign initiated by Wine to Water – a not-for-profit organization that provides people around the world with access to clean water. To learn more,
just visit the campaign's web site
.
Considering that many feel that using their Apple iPhone is a religious experience, perhaps it shouldn't be surprising that a product known as the
Miracle Machine
uses an iOS or Android app to turn water into wine. That is a nice little trick of biblical proportions. The
Miracle Machine
uses a combo of yeast and grape juice, a little bit of water, and some other ingredients. A bottle of wine that might cost you $20 at the store, will cost you all of $2 to make.
The whole water into wine bit takes a few weeks, so you might want to get a head start if you have a dinner party coming up. The price of the whole kit is $500 which quite frankly, might serve you better at your local spirits store. But we guess that the whole idea might be fun for those over 21. And what smartphone owner wouldn't love to brag that his handset produced the wine on the dinner table on a given evening.
The Miracle Machine is going to be funded through a posting on Kickstarter. Now all we need is an app that lets us walk on water.

Turn water into wine with iOS and Android app