Pentagon approves BlackBerry 10 devices, PlayBook for use within Department of Defense
8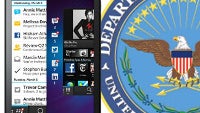 Just yesterday we heard that
Samsung and Apple are about to get approved by the Pentagon
for use within the U.S. Department of Defense, but today one company has already passed that approval and that is BlackBerry.
BlackBerry has traditionally been the go-to company for institutions where security is of utmost importance and getting Pentagon's clearance on this is extremely important for the Canadian phone maker. This approval
allows the DoD to use the BlackBerry Z10, Q10 and the BlackBerry PlayBook
tablet running Enterprise Service 10.
Getting the clearance is not only pre-requisite to a big government client, it is also something that other security-conscious industries like banking might look at as a consideration to also get BlackBerry 10 devices. For DoD employees it's also a step into the modern future after being stuck using dated BlackBerry OS 7 devices.
Apple's iPhone and iPad along with Samsung's Galaxy series are also expecting to get Pentagon's clearance soon, and that would put even more pressure on BlackBerry.
source:
Engadget

BlackBerry 10 Smartphones Approved for Use On U.S. Department of Defense Networks
May 2, 2013

Waterloo, ON – BlackBerry® (NASDAQ: BBRY; TSX: BB) today announced the U.S. Department of Defense (DoD) has approved BlackBerry® 10 smartphones and BlackBerry® PlayBook™ tablets with BlackBerry® Enterprise Service 10 to be used on DoD networks. Working with the Defense Information Systems Agency (DISA), BlackBerry 10 smartphones and BlackBerry PlayBook tablets have undergone successful testing through DoD labs leading to a subsequent listing on DISA's Unified Communications Approved Product List (UC APL).

The approval allows all DoD customers to use the BlackBerry® Z10 and BlackBerry® Q10 smartphones, and BlackBerry PlayBook tablets on DoD networks.

"IDC research shows that mobile security continues to be of utmost importance to government agencies around the globe," said Stephen D. Drake, Program Vice President, Mobility & Telecom at IDC. "The U.S. Department of Defense's strict security requirements are amongst the highest in the world, and this allows other government bodies to follow suit. The role of BlackBerry including devices and BlackBerry Enterprise Service 10 continues to be important and relevant for security conscious organizations."

"BlackBerry 10 is ideal for our government customers because it offers a rich, highly responsive mobile computing experience, along with BlackBerry's proven and validated security model – a combination that's unmatched in the industry," said Scott Totzke, SVP, BlackBerry Security at BlackBerry. "This approval will enable DoD customers to connect their BlackBerry Z10 or BlackBerry Q10 smartphones to DoD networks and securely access assets from work, while enjoying the wealth of consumer-oriented functionality that BlackBerry 10 brings to market."