Pebble hires former webOS designers to overhaul its smartwatch UX
12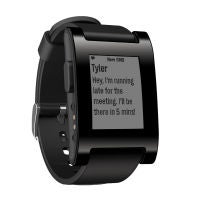 The Pebble has been widely regarded as the best smartwatch around, and much of that is due to the very simple interface and focused feature set. But, as smartwatches get more complex, Pebble knows it will have to update its user experience design (UX). In order to do that, Pebble has hired two former webOS designers to work on its UX.
Obviously, the head designer of webOS was Matias Duarte, who is now the vice president of design for Google, but Pebble has hired Itai Vonshak and Liron Damir, who had worked on webOS. The two had worked for HP until it gave up on webOS, and then the two also went to LG to work on the webOS revival for smart TVs. Now, Liron Damir will become Pebble's Head of Design, and Itai Vonshak will lead the Pebble Product and UX group. Vonshak and Damir aren't the first Pebble hires to come from the webOS team by way of LG. Earlier this year, Pebble had also hired Henry Levak to be the Product Director.
Many will probably claim that this focus on UX at Pebble is either a response to Android Wear, or a preemptive move ahead of the iWatch release; but, the truth could very well be that it doesn't have anything to do with either competitor. UX is one of the most important aspects of design, because customers won't want to use your device if your UX is bad. Pebble has likely known that it will have to evolve its products, and these new hires will help do that.