Patent awarded to RIM for text prediction based on logic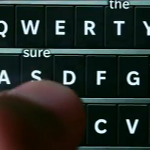 RIM and keyboards. If there is one thing hardware related that BlackBerry is known for,
it's their physical QWERTY keyboards
. Don't believe us? Just check out the QWERTY on the BlackBerry Bold 9900/9930. The history of RIM on the virtual QWERTY side is not as impressive. The SurePress process on the BlackBerry Storm was meant to emulate the pressing of a real keyboard. It was a gutsy experiment for a company that never had a touchscreen phone before, but it failed. Even
adding sensors to the BlackBerry Storm 2
could not improve the keyboard.
displays the suggested words right on top of the keys based on the first letter of the suggested word
.
And behind the word prediction engine is a newly patented logic-based text prediction engine. RIM has received a patent (8,224,393) for this, which was originally filed in May of last year. Instead of searching for typos, the software is combing over the words you've typed, looking for
context and often-used expressions to come up with the predictions of the next word
. Unlike the word-prediction engine on other phones, the patent filing indicates that RIM's word-predictions are not based on the frequency certain words are used by the handset's owner.
This is obviously good news for RIM. If the applause for the BlackBerry 10 QWERTY keyboard extends to the phones themselves, BlackBerry may not just survive
but might even thrive
. And having a patent on a key element of RIM's turnaround should allow CEO Thorsten Heins to get some sleep at night.
source:
USPTO
via
Engadget