Patent application filed in 2004 by Apple for capacitive touchscreen is granted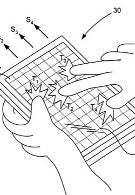 In a move that has made countless lawyers do the dance of the rain of money, Apple has been granted a patent on capacitive touchscreens relating to a 2004 application. While the patent probably does not cover all aspects of the screen, reading the abstract gives us the idea that the patent is somewhat broad in scope: "A touch panel having a transparent capacitive sensing medium configuredto detect multiple touches or near touches that occur at the same timeand at distinct locations in the plane of the touch panel and toproduce distinct signals representative of the location of the toucheson the plane of the touch panel for each of the multiple touches isdisclosed." Looking at the diagram we see what appears to be someone simply using a multitouch display. Three inventors are given credit for the patent, Steve Hoteling and Joshua A. Strickon, both from San Jose, and Brian Q. Huppi from San Francisco.
With the large number of touchscreen handsets sold each year, we recently have seen a number of suits and complaints and cross complaints filed as each company with a patent on just a little bit of smartphone technology starts smelling all of the cash involved in royalty payments and punitive damage awards. And if all of the phone manufacturers smell the money, you can imagine that the lawyers right now have green flowing through their veins. Will Apple use the award as a club to hit infringing competitors with? With all the potential money involved, what would you do?
source:
USPTO
via
Gizmodo
,
Engadget