Paperback version of Jobs bio coming September 10th with new cover picture
8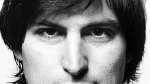 The paperback edition of Walter Isaacson's best-selling biography about the late Steve Jobs will be available
September 10th
, according to publisher Simon and Schuster. The book will feature a new cover picture of Jobs earlier in his life. The publisher added that there will be a new, updated afterword to the edition.
The photo to be used for the paperback edition of the book shows Jobs in the same exact pose used for the hardcover version of the biography, except it was taken years earlier when he had a full head of hair. The hardcover edition was released in the fall of 2011 and while the publisher has not revealed sales figures for the book, it was Amazon's best-selling title in 2011.
The paperback edition will be released two years after the original hardcover dropped, which is considered a longer time than usual between editions. The book is being turned into a movie,
penned by Aaron Sorkin
, which still needs to be cast.
source:
AllThingsD