Pantech Pocket hands-on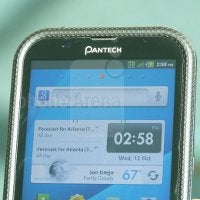 Quietly during fall CTIA in San Diego today, we managed to meet up with some of the folks over at
Pantech
to check out some of their sweet new phones.
Officially announced by AT&T yesterday
, we managed to check out the very intriguing looking
Pantech Pocket
that's going to be headed to
AT&T
in the very near future.
Right from the start, it's classic Pantech styling as the Pocket utilizes the same design cues found with other devices – like the Pantech Pursuit II with its squarish size. Solidly built for the most part, thanks to its
rubbery exterior
, the first thing to really capture our attention is its wide figure. Of course, it's able to accomplish the task of jumping out at us from the onset, but it's still capable of fitting snuggly within our pockets.
Sporting a 4" SVGA (800 x 600) display, it's not something we typically find used by most smartphones, but its wide figure simply allows for less scrolling with things like emails and web surfing. Even though it's detailed enough to visualize fine text, viewing angles are rather quaint as it fades out very quickly – plus, its brightness output isn't as high as we'd like. Nevertheless, it's by far the biggest thing to initially capture our attention, but more importantly, it'll be able to grab the attention of potential buyers as they shop around for their next device.
Powering the handset is none other than a
1GHz single-core Qualcomm Snapdragon processor
, which easily positions it as a mid-range handset nowadays. Boasting a customized interface running on top of Android
2.3
Gingerbread, it reminds us of HTC's Sense UI since its lock screen provides us options to get into specific apps right away by simply dragging an icon to the center ring. Sure it's not a final retail model, but unfortunately, we're not thrilled to see some
jerkiness and delay
with its overall operation. Then again, it can be related to the custom interface that it's running – so we hope to see some of its kinks ironed out prior to launch.
So far, there is no exact launch date or pricing given to the handset, but considering that this is Pantech that we're talking about, we'd expect nothing but one competitive price point to really differentiate it from the rest. Knowing that the upcoming Motorola ATRIX 2 is going to be priced remarkably at $100 with a 2-year contract, it'll be interesting to see how Pantech manages the Pocket's price point.