Palm Pre Plus is a Multitasking fiend
This article contains unofficial information.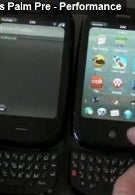 For those wondering if the "Plus" in the Palm Pre "Plus" really stood for something, the increase in RAM alone apparently makes a big difference. The guys at Pre Central decided to see how many applications each version of the Pre could run before the multitasking would grind the device to a halt. The Sprint version stopped at 13 apps. The Verizon model slowed a tad after 30 applications, and was still going when the site decided to stop at the round number of 50. Any of you Pre owners want to move up to the Plus after seeing this?
Palm Pre Specifications
|
Review
Palm Pre Plus Specifications
source:
PreCentral