Palm Pre Plus and Palm Pixi Plus now available from Verizon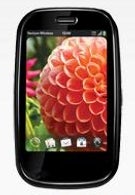 The Palm Pre Plus and the Palm Pixi Plus are now available from Verizon. The nation's largest cellular company has improved the specs by adding some memory, removed a button on the Pre and added Wi-Fi to the Pixi. Verizon now becomes the second U.S. carrier after Sprint to offer webOS handsets. After a $100 mail in rebate, the Pre Plus is $149.99 and the Pixi Plus is $99.99.
Launched amid great fanfare last June, the Palm Pre had a brief exclusive period at Sprint that resulted in disappointing sales. When originally announced to the public about 12 months ago, the handset was considered to be a strong challenger for the Apple iPhone. Whether it was too few apps readily available at launch, or a ad campaign that was avant-garde at best, the original Pre did not catch on as expected, despite mostly positive reviews-especially about the webOS operating system. Some reviewers did complain that the product build made the Pre feel like a Fisher Price toy and Verizon has tightened up the quality of both devices.
Palm Pre Plus Specifications
|
Review
Palm Pixi Plus Specifications
|
Review
source:
Verizon