Palm Mansion rumored to have a huge 5-inch display, expected in Q1 2011
2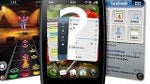 Palm Mansion – even the name of this device speaks of size, and recent rumors suggest that it might have a touchscreen display slightly bigger than 5 inches, while still marketed as a smartphone. Now, the link between the Mansion and the smartphone expected from Palm remains unconfirmed. And we should add, that a five-inch smartphone seems to us more like a tablet with enabled voice calls.
What we know about the intriguing device is only speculations, it is supposed to have a touch display and the resolution might be 480x800 pixels. And that's about it. But what gives some more value to these rumors is the matching time of arrival, which is expected to be at the end of the first quarter of 2011.
The five-inch smartphone could finally turn out to be a different device altogether, as Palm has a handful expected for launch. Could it be the upcoming device codenamed Stringray? We could only theorize at best. Palm, recently acquired by HP, is still quiet about its upcoming devices, but it could well be the kind of silence before a storm. The company has two devices in the making and both are set to make an appearance early next year, the Palm Mansion and the PalmPad. Add to that the Palm Pre 2, which is about to make a debut on Verizon just in time for the holidays, and
you get a very interesting picture
.
source:
Go Rumors
Recommended Stories