PUBG Mobile Lite adds Halloween-themed survival mode, new weapons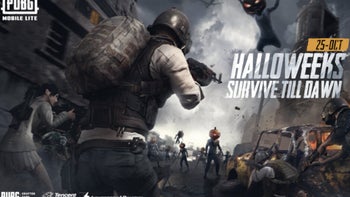 Admittedly PUBG Mobile Lite is not available worldwide, there are a lot of people playing the game in those
countries where it was made available
. Thankfully, the developers said the lighter and faster version of the classic battle royale will be rolled out in other regions in the coming months.
If you're lucky enough to be able to play PUBG Mobile Lite, you'll be happy to know that there's a big update coming your way, which brings a lot of new content. The most important change is the new Halloween-themed survival mode called Survive Till Dawn where players must work together with their teammates to survive three days and two nights.
During the daytime, players can loot for supplies, while at night, a massive horde of Pumpkin Zombies will need to be subdued until evacuation to unlock new exclusive achievements.
Three powerful new weapons are included in the update too – Sawed-Off, M134 Minigun, and Flamethrower. The last two will be available in the Survival Till Dawn mode as well.
Also, the update adds new daily rewards like outfits, BC and more, which can be unlocked by watching videos on the purchase page. The Winner Pass feature has been updated, so players can now directly complete a Pass Mission and friend assistant feature when they have a Pass Mission Card.
Last but not least,
PUBG Mobile Lite
now features a quick entry option in the main menu that lets players choose a game mode faster. And speaking of the main menu, this has been decorated with a festive Halloween theme.