PRIZM stands for tablets and smartphones hands-on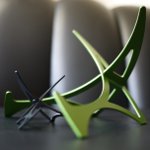 At first glance, we were wondering what exactly is
Hub Innovation's PRIZM
. Obviously, the name itself alludes to something that's related to geometry, and rightfully so, they fit the bill in having solid bases that are parallel to one another. However, before realizing they are stands for tablets and smartphones, we were under the impression we were checking out some kind of futuristic carving knife, since they boast the rounded curves of a blade. Nevertheless, they're actually stands at heart.
Now it's hard to say who would fathom even using the PRIZM stands on the go, since you know, they have this
out of this world appearance
. Interestingly, they're constructed out of a
tough aluminum alloy
that put together by matching up their notches – thus, forming the distinct skeleton of an eclectic stand. And simply folks, that's probably the single best thing about these PRIZM stands. No doubt they're
sturdy
as well, but they stand out for their
funky and non-traditional appearance
.
Indeed, they're portable enough to carry along on the road, but we'd actually prefer using these as showcasing pieces at home. Specifically, if you have a gadget that you want to make as a centerpiece on your living room table, these will absolutely add that hint of art to the mix. However, some might question its
$25 to $40 price point
(you can get them in a variety of colors and gold plated), but still, we're certain some art aficionado would certainly pick them up. Indeed they're functional in showcasing or propping up our devices, but you're probably better off showing them off at home.