PC classics Half-Life 2 and Portal now available on the NVIDIA Shield
10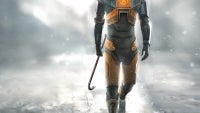 Owners of the NVIDIA Shield can now download Android ports of the PC classics Half-Life 2 and Portal straight off of Google Play. They cost $9.99 each. According to Valve, makers of the Half-Life games,
"fans of both franchises can expect the same gameplay they've come to love on the PC,"
while NVIDIA assures us that
"the graphic performance is sharp, and the controls are precise and natural"
.
Half-Life 2 was originally released on November 16, 2004, following a five-year development. Same year, it won 39 Game Of The Year awards, and was crowned "Game Of The Decade" in 2012. It was followed by two episodic sequels, which aren't included in the Android version. Portal appeared in 2007 along with Half-Life 2: Episode Two. It has an unique gravity and physics-based gameplay that will get you "thinking with portals".