OverVolt – crazy arcade slot car racing
1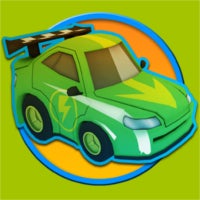 Remember good ol'
Re-Volt
? It's a classic '99 racing game, where the player controls R/C cars and employs a various set of wacky powerups, picked up from random spots on the race track, in order to gain the upper hand in a race.
The new "OverVolt: crazy slot cars" reminds us very much of that classic. No, it's not a clone, but it does look like it has borrowed from the concept. In this one, you control slot cars and you only have an accelerate button to do so. Yep, just like a genuine good old slot car, all you have to do is slow down just enough to make sure it doesn't fly off its rail on the sharp turns. Powerups, such as nitro, offensive rockets, etc., are also available, though you have to buy them, instead of pick them up from the track on a race-per-race basis.
There are both singleplayer and multiplayer modes. The former spans across 3 scenarios with 30 tracks total, and the latter offers 6 scenarios with a total of 40 tracks. The freemium version of the game allows you to only play 3 multiplayer games per day and only the first scenario of the singleplayer.
The game's "shop" section is where you buy new cars and powerups. These cost in-game currency, which you can buy with real-world currency. Otherwise, you can try and slowly earn it, but we all know that hardly ever works. It also offers a really cool car customization trick – instead of painting your car, like other games would do – OverVolt allows you to take a picture with your camera and applies it as a texture over the car... for 100 in-game money.
The game won a grant at
Microsoft's AppCampus
and will be exclusive on Windows Phone for the first 90 days of its life. The Premium version is now free on the Microsoft Store for a limited amount of time – getting it will allow for free car customizations, unlimited multiplayer games per day, all 3 singleplayer scenarios and 5000 in-game cash to spend around.
If you are on iOS or Android – don't fret – we really recommend playing Re-Volt instead, anyway. It has been ported to work with mobile devices and is available on both stores.