Over a million unlocked iPhones roaming the T-Mobile network, the carrier is working on a Micro SIM of its own
8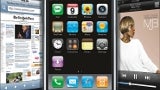 There was a
survey posted yesterday
, based on a 250 store sample, which claimed that more than a half of AT&T and Verizon stores surveyed had the iPhone as their best-selling device.
Now in a spokespeople meeting it turns out that T-Mobile, which doesn't even officially offer the iPhone, has more than one million unlocked devices roaming the ether on its network too.
Most of them are iPhone 3GSs, the representative clarified, because of the regular SIM size, but he had also confirmed
T-Mobile is working on a Micro SIM card
module of its own, although he hadn't didn't specified when can we see it.
The T-Mobile person that relayed this data however said that a significant number of customers have already "
taken the scissors
" to adapt the regular-sized T-Mobile SIM card for their unlocked iPhone 4s. Asked when can we see the iPhone officially on T-Mobile's network, the carrier spokesman said there was nothing to announce at this time.
source:
9to5Mac
Recommended Stories