Ostentatious invitation box for ZTE's Nubia Z9 announcement event must cost a small fortune!
4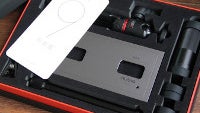 A week from now, ZTE will finally hold an event that will see its oft-rumored Nubia Z9 unveiled. The invitation that members of the Chinese media received, however, is ostentatious to say the least, and must have cost the company a small fortune to send out, especially if we aren't looking at a limited, special edition meant for the biggest players in the industry.
As you can see from the photos below, the hefty box contains a number of goodies. First and foremost, we have a rectangular metal piece that tells us that at least one version of the Nubia Z9 will be built out of the premium material, and will be also quite large. But that's not all – ZTE's marketing people have also included a small tripod with Nubia branding on it and metal used throughout, likely meant to be used with the Z9, but you could obviously repurpose it. Lastly, the company has also thrown in three separate lens that can be mounted to a smartphone for good measure – a telephoto one with 10x zoom, and macro and fisheye lenses.
Incredibly generous or creative invitations such as these are not
uncommon for China's premium smartphone makers
, and it is possible that the company sees the extravagant box as an investment – after all, the mini tripod and the lenses will likely end up being sold as accessories for the Nubia Z9. Regardless, it's not every day that we see manufacturers go the extra mile.