Oracle shows off designs of a 2006 "Google Phone" in court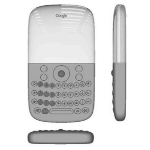 The evidence shown off in court today as part of Oracle's case against Google was pretty surprising: renders from 2006 of the original "Google Phone", and what Google thought a smartphone could be. Not surprisingly, it looked quite like an updated BlackBerry. Frankly, we were a bit surprised to hear that the images were coming out for Oracle's case, because they look like something Apple would use to prove claims that Android was "stolen". The renders come from 2006, which is about a year after Google purchased Android, but a good 2 years before the first Android phone, the G1, was released into the market.
Oracle released the images because the designs for the phone mention a heavy use of Java for the smartphone implementation. One slide specifically mentions the aim to "leverage Java for its existing base of developers. Build a useful app framework (not J2ME). Support J2ME apps in compatibility mode. Provide an opTMobileized JVM (Dalvik)." As you can see, the early plans were always part of negotiations with T-Mobile as the carrier of the device. Google's plans were to provide "integrated services" and push customers towards high-end data plans.
with dedicated shutter button
(something many Android devices still don't have), BlueTooth, and a QVGA screen.
Google's Android plans of course didn't follow this plan at all really. At the time, Google had Android running on touchscreen devices with many parts of the finished OS in fully working order including the WebKit browser, dialer, home screen, messaging app, and contacts. The company had hoped Android would be certified by mid-2007, then released to manufacturers, but as we know, the first Android device to exist was the G1 in October of 2008.
All in all, we're pretty happy that the first Android device wasn't something akin to a BlackBerry, because while the early Androids may have been pretty rough, touchcreen was a much better option. Still, this render was only one of a few designs that Google was reported to be working on. Another design was similar to that of the eventual G1 with a touchscreen and slide-out QWERTY keyboard, and it's unclear what the third option being discussed would be.
Interestingly, but not surprising given Google's love of bandwidth, even back in 2006 one key feature that Google was pushing for with T-Mobile was a 3G radio. Google knew that the smartphone revolution depended on fast data and more importantly
unlimited data
. Carriers have certainly jumped on the fast data train, but that unlimited idea is one that is almost impossible to find these days.