Oppo's 'waterfall display' beats Samsung at its own curvy game, but we aren't sold
30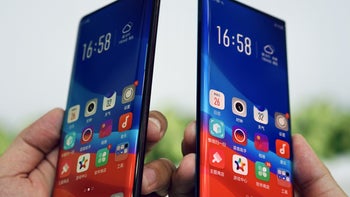 Those trend-setters from Oppo are at it again, releasing a so-called "waterfall display" technology which seems to be just a flexible OLED screen sloping further towards a phone's edges than the current handsets with curved screens.
It undoubtedly looks cool and will allow for some pretty impressive screen-to-body ratio claims as the phone will be narrower than handsets with the same display diagonal when unfurled, but flat panels.
While Oppo just sent us these pictures and will follow up with the respective specs or eventual phones where the 'waterfall' tech will be employed later, the sheer look of it bounds on the impractical. The thing is, the slope is taken to the extreme with an 88 degrees curve towards the side frame of the handset you see in the pictures below.
Taking borderless smartphone innovation to new heights, we're thrilled to give you a first look at 'Waterfall Screen' technology.



What do you think the screen-to-body ratio is on this prototype? pic.twitter.com/99AQKh9ZgH— OPPO (@oppo) 29 юли 2019 г.
Samsung pioneered this curved edge display technology, and started off with the huge slope on the Note Edge way back in 2014. Fast forward five years, and its edge panels are now simply curved all very slightly for aesthetic purposes since larger curves proved to be everything but ergonomic.
That's not preventing Oppo from giving it a try, though, as these guys have been experimenting with bold and interesting designs since, well, forever. Just recently, the
Reno
shark fin phone comes to mind, as well as proof-of-concept demos for
under-screen cameras
and finger scanners that
work all over the display
.
Who knows, the company may find better applications for the extreme curves and the "waterfall display" is certainly an engineering marvel, yet those big fat icons on the side are just begging to be touched inadvertently while handling a phone with big, fat screen slopes on the side, what do you think?
Recommended Stories