Oppo to ship 50 million smartphones next year, targets the sub-$160 price segment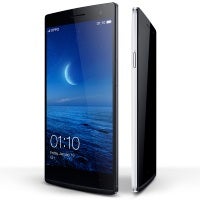 Citing sources in Taiwan and China, DigiTimes reports that Chinese smartphone maker Oppo has targeted up to 50 million product shipments for next year, with 35 million going to China and 15 million to the smartphone-hungry masses from the rest of the world. Is the innovative company feeling lucky, or what?
Next year, Oppo will continue incorporating Qualcomm processors in its high-end models, while low and mid-range offerings will keep relying on MediaTek's affordable solutions. Lite-On Technology will remain the supplier of camera sensors and batteries. So it's business as usual for Oppo, only the company will have to cave in to the trends and start attacking the sub-CNY 1000 price segment ($160) with everything it has. Oppo has a production capacity of 2.5 million units a month, so it's going to war prepared.
This year, Oppo will be remembered for the
Oppo N3
with its motorized rotating camera, and the exceedingly thin
Oppo R5
. It also introduced the VOOC rapid charging technology, which made the third place in
our "Best Innovations" awards.
source:
DigiTimes