Oppo shares the story about a man that "finds more" thanks to his Find 7
11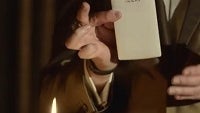 Meet Roy, a guy with talent he didn't know he had until he had an
Oppo Find 7
dropped in his pocket at a magician's performance that happened once upon a time.
"I used to be a man who loved to find…find the secrets, the truth, the stories," explains Roy as the video begins with him showing off of all the secrets of the illusionists at their performances. One evening while watching another performance, he volunteers to participate and so begins, "This is the story of mine…"
Shaking hands with a guy who looks vaguely familiar, Roy goes into the box, and "finds" his Find 7, instantly he's transformed to the city where he stumbles along and wonders where he is. His phone rings and he is told, "Find yourself, find the magic." Lo-and-behold, he sees a billing for himself proclaiming, "Wonderful magic power."
"I started to find…" continues Roy as he learns every trick in the book, only to be told to "find more" by his mentor. It is then we see the student become the master. Oppo shows off the camera as well as the fast charging nature of the new Find 7. The camera's zoom endears him to a lovely lady in the back of the audience. It is at one of his later performances where he pulls off the ultimate trick.
The conclusion begins, "I used to be a man who loved to 'find' the secrets, the truth, the stories, this is the story of mine." So, we glean from this that you will find more about yourself, and those around you with a super-cool new Oppo Find 7. After all, it is packing top of the line technology and premium build quality. Are you ready for the Find 7?
source:
Oppo
(YouTube)