Oppo Reno 10x Zoom hands-on: The shark-fin phone
9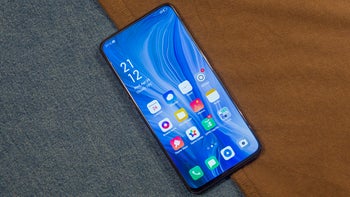 Oppo has never been afraid of experimentation. Last year, the company gave us the
Oppo Find X
and the F11 Pro, both of which served as a showcase for the company's unique (and off-beat) sense for smartphone design. Featuring a sliding screen and a pop-up selfie camera respectively, each of these two devices offered its own take on the all-screen phone with varying degrees of success.
This year, Oppo is launching the Reno – an ambitious phone that follows in the footsteps of its predecessors with a quirky "shark-fin" front-facing camera and eye-catching bezel-less design. It comes in two models, the base Reno and the
Reno 10x Zoom
. Both share a similar design, but have different specs and, as the name suggests, the latter sports 10x magnification in its main camera.
Today, we got the chance to check them out and we'd like to share our initial impressions of the Oppo Reno 10x Zoom with you. Do note, however, that the phone we got to check out was a Chinese, pre-release unit that wasn't running the final version of the software. Oppo is supposed to start shipping out the global version next month.
Stunning all-screen design (but at what cost?)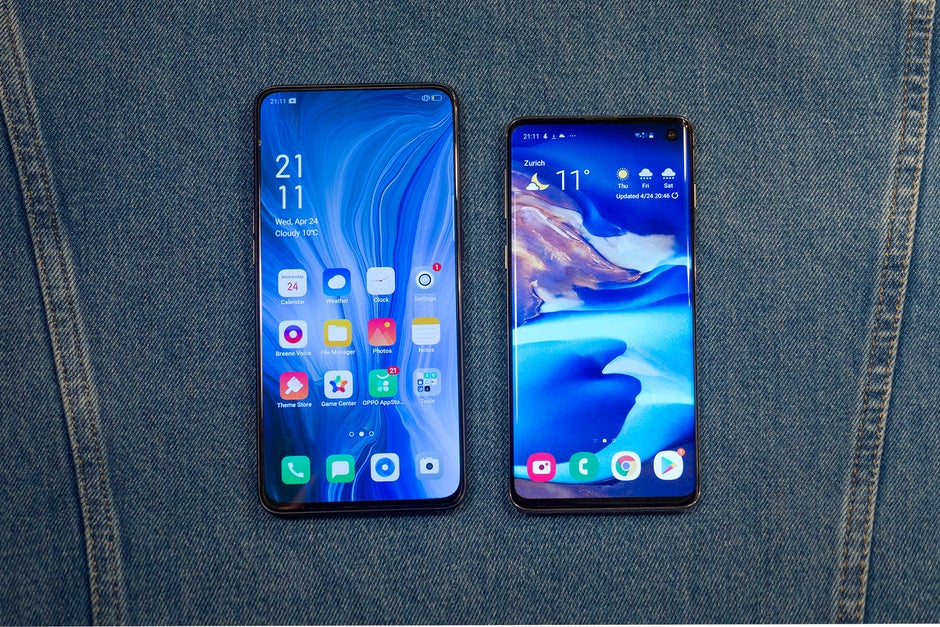 The Oppo Reno 10x Zoom is gorgeous to look at. Even though we've already seen plenty of Chinese phones with no notches, camera punch-holes, or any other screen blemishes, the Oppo Reno still manages to impress with its extremely thin bezels and huge, vibrant display.
To achieve this, Oppo had to deal with the front-facing camera and earpiece in some way. The company opted for a pop-up solution, but it's a tad different, in that it resembles a shark fin… or a wedge of cheese, depending on how you want to look at it. It's motorized and (thankfully) rather quick to jump into action when summoned.
On the shark-fin resides an f/2.0 16MP selfie snapper that's quite adequate and has portrait mode to boot, even though it's just a single lens with no optical means of measuring depth. According to the company, the camera opens in 0.8 seconds and has been tested for 200,000 actuations, which totals up to around 100 uses per day over the course of 5 years.
The downside of this design? The Oppo Reno is not water- or dust-resistant, much like all other devices with non-solid-state designs. On the upside, Oppo has thought about protecting the mechanism from accidental drops. After all, one of the biggest disasters that could befall a phone with this design, is for it to slip out of your hands while the camera is in use, which would leave it vulnerable to all the horrible realities of dropping a phone in 2019.
In order to (at least partially) combat this, Oppo has made the Reno capable of detecting falls. In other words, when the phone is dropped, it automatically retracts the camera. Does it actually work? Let's try it out!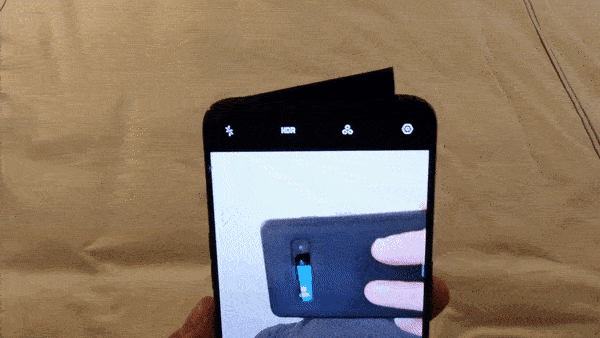 Since it's not our mission to destroy this device, I decided to gently drop it on the soft bed in my hotel room. As you can see from the video above, the drop detection feature works as intended. The phone even asks you if you'd like to activate the camera again. As if you would be in the mood for selfies after dropping this gorgeous phone on the pavement. Anyway, props to Oppo for making the Reno capable of detecting even short falls, such as the one that it courageously endured in my hotel room.
Highly-advanced camera with 6x optical zoom
Don't let the name of the 10x Zoom fool you – it allows for up to 6x optical magnification and employs hybrid zoom to push it the rest of the way. Similar to the Huawei P30 Pro, the Oppo Reno 10x Zoom is equipped with a periscope camera system that uses an array of lenses that runs parallel to the phone's back. This trickery allows the phone to boast incredible (for a device of its size) optical zoom when shooting stills and video. Oppo touts an impressive 16mm – 160mm focal length coverage.
All in all, we've been quite impressed with the camera, even though the unit we got to use wasn't running the final version of the software. For this reason, we will refrain from drawing any conclusions on Reno's camera at the time being. Instead, we are just going to share our impressions from our time with it it. Still, with all that said, as you can see for yourselves from the images above, the transition from 1x to 10x zoom can be quite staggering (in a good sense). Even though 10x zoom is not achieved through fully optical means, it still manages to impress with the clarity and detail of the image it produces. We can't say how it compares to Huawei's take on the technology at this time, but we're eager to put the P30 Pro and the Oppo 10x Zoom to the test.
Being the obvious star of the show, the camera is comprised of a 48MP main sensor, a 13MP telephoto shooter, and an 8MP wide-angle to boot. The wide-angle is not as wide as what we've seen on other phones, but it is still perfectly serviceable for shots in tight urban environments. When compared to the ultra-wide snapper of the Samsung
Galaxy S10
, Reno's camera seems to have a slightly longer focal length, but hey, that crazy zoom!
For more astounding comparisons between 10x zoom and no zoom at all on the Oppo Reno, check out the galleries below:
ColorOS 6 – not bad, actually!
ColorOS used to get flak for being a rather uninspired iOS imitator back in the day. Well, it's safe to say that Oppo's proprietary Android skin has matured quite a bit since those days. Traces of its old DNA can still be felt throughout the UI, especially the Settings menu, but it has moved on to greener pastures over the past couple of years. Our Oppo Reno unit wasn't running the international (or final) version of ColorOS 6, but we still managed to gather some impressions from the updated operating system.
With ColorOS 6, Oppo is moving to a cleaner, flatter look. The UI is abundant in stark white backgrounds and subtle gradients spurced throughout. It is also quite lively, with no shortage of animations, which, in our experience, were very smooth and pleasant to look at. Speaking of animations and smoothness, the gesture-based navigation system on the Oppo Reno also felt quite responsive. It is very similar to what we've seen from the
iPhone X
and up, in that a swipe up from the bottom bezel either brings you to the home screen, or to the recents screen if you drag up and hold, instead of quickly releasing.
As is the trend, ColorOS 6 also comes with a smart assistant. No, it's not an AI assistant, but rather a new page to the left of your home screen. It contains a search bar that lets you look up things on your phone, including apps and settings, and also contains different widgets, such as Calendar, Notes, and Quick functions. This screen can be customized to a degree, so you can make it fit your needs.