Opera's ad network says iOS topped Android in mobile ad revenue for Q1
8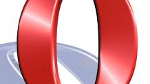 According to Opera Mediaworks monthly report on mobile advertising,
iOS
received the majority of mobile ads in Q1. Of the greater than 50 billion ad impressions that went over the network during the first three months of the year, 44.53% went out over an iOS device while 49.23% of mobile ad revenue was credited to an iOS product. Android came next with 31.26% of mobile ads running on a phone or tablet powered by Google's open source OS. However, Android accounted for a lower 26.72% of mobile ad revenues.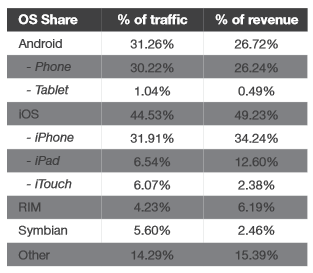 The Apple iPad's share of mobile ad impressions dwarfed that for Android tablets
The popularity of the Apple iPad made up the difference between the top two platforms. The Apple iPhone received 31.91% of Q1 mobile ads while Android phones captured 30.22% of them. Meanwhile, 6.54% of the spots were seen on the Apple iPad versus the 1.04% of the ads viewed on an Android slab. After iOS and Android, "Other" came in third with 14.29, followed by Symbian and RIM devices with 5.60% and 4.23% of the first quarter mobile ad market respectively.
Interestingly, U.S. ad impressions dropped from 60% last quarter to 50.7% while in Europe, the market share rose from 14.51% of ad impressions in the prior quarter to 21.53% for the three months ended in March.
source:
Opera
via
TUAW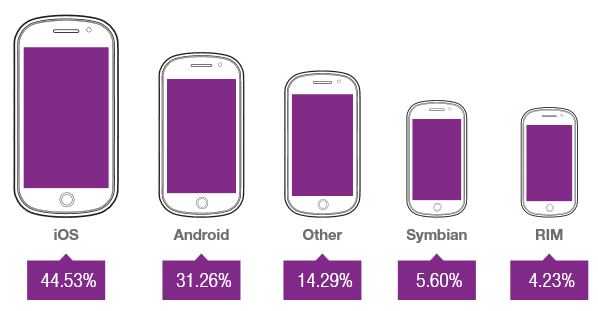 Android trailed iOS in overall share of mobile ad impressions in Q1