Only in Japan: Sharp Pantone 5 107SH is the first phone that measures radiation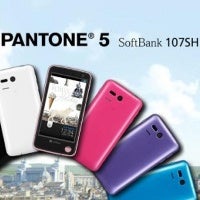 The Sharp Pantone 5 107SH is definitely a phone that will catch your attention with its vibrant body colors, but it's something else that makes it truly unique - the
Pantone 5 is the first phone to come with a built-in radiation sensor
.
A big round physical button on the front of the device triggers a dedicated radiation reader app that gives you a fairly accurate measure of the level of radiation in your area. It's very straightforward - takes 10 seconds to come up with a reading, and then shows it on the screen along with a map of your location.
After last year's Fukushima tragedy in Japan, many people in the country are carrying radiation meters, and there's even a radiation reader accessory for the ever popular iPhone. So the Pantone 5 might have definitely hit a niche in Japan, but even so the prominent position of the radiation app button seems a bit overplayed to us.
As to the brand itself, Pantone is one of the more popular brands in Japan, known for its vibrant colors. Apart from the radiation meter, the Pantone 5 is a pretty average handset coming in eight colors and with a fairly thick, 0.47-inch (12mm) body.
It runs Android 4.0 on a 3.7-inch WVGA screen and a 1.4GHz single-core processor, features a 4-megapixel camera, and - as is common in Japan - will also be water- and dust-proof. The Pantone 5 release date is set for mid-July with no pricing revealed yet.