OnePlus shows us how it's testing the durability of its One smartphone (no bend test here)
11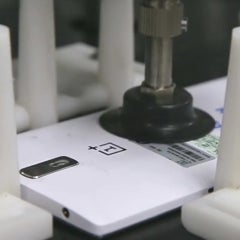 Not long after Samsung released a video showcasing how it's
testing the brand new Galaxy Note 4
to make sure the device is durable and doesn't bend when it shouldn't, now OnePlus posted a video that walks us through a series of quality control tests performed on its
One smartphone
.
As you'll see in the video, the OnePlus One doesn't go through any proper bend tests, though there's a "sit test" which simulates 55 pounds (25 kg) being pressed against the device 1,000 times. There's also an impact test (drops from 4 feet - that's 1.2 m), a tumble test, and even a USB stress test. Moreover, the handset is being exposed to light "rain" for 10 minutes, as well as to 130 ºF (55 degrees Celsius) for 4 hours. Naturally, OnePlus claims that these tests don't alter the handset's functionality.
While at the moment you still need an invite to get your hands on a OnePlus One, it looks like the smartphone will be
available to buy directly
starting later this month. Next year, OnePlus may launch a new handset - possibly called
OnePlus Two
- which could have a smaller display than the One (as you may know, this sports a 5.5-inch screen).