OnePlus 7 vs Samsung Galaxy S10+ vs LG G8 ThinQ: Three-way specs comparison
6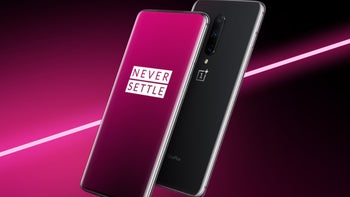 The OnePlus 7 Pro is undoubtedly the most advanced smartphone the company has ever come forth with, a powerhouse that can easily stand its ground with the flagships out there. Galaxies, Pixels, LGs, iPhones, come at it!
Now, the OnePlus 7 Pro is already dangerously near to high-end flagship territory thanks to its pricing which is a bit higher than OnePlus' previous phones. This means that the OnePlus 7 Pro is slowly but surely becoming a rhetoric embodiment of that very same "flagship" that the company vowed to "kill" back when it was a start-up. Yet, that's the natural progression of things.
How exactly does the OnePlus 7 Pro compare against some of the more traditional flagships out there? Are the Galaxy S10+ and the LG G8 ThinQ better offerings, all things considered? There's one way to check this out - by pitting them against one another in our dedicated specs comparison tool, which will reveals the ins and outs of all three devices.
HDR support, Scratch-resistant glass, Ambient light sensor, Proximity sensor
HDR support, Scratch-resistant glass, Ambient light sensor, Proximity sensor
HDR support, Scratch-resistant glass, Ambient light sensor, Proximity sensor
Qualcomm Snapdragon 855 (7 nm)
Qualcomm Snapdragon 855 (7 nm)
Qualcomm Snapdragon 855 (7 nm)
Octa-core, 2800 MHz, Kryo 485, 64-bit
Octa-core, 2840 MHz, Kryo 485, 64-bit
Octa-core, 2840 MHz, Kryo 485, 64-bit
Adreno 640
Adreno 640
Adreno 640
128GB
128GB
128GB, not expandable
Android (11, 10, 9.0 Pie), Samsung One UI
Android (9.0 Pie)
Android (10, 9.0 Pie), OxygenOS UI
Qualcomm Quick Charge 2.0, USB Power Delivery, Samsung Adaptive Fast Charging
Qualcomm Quick Charge 3.0, USB Power Delivery
OnePlus Warp Charge
22.00 hours
the

average

is 11 h (660 min)
34.00 hours
the

average

is 11 h (660 min)
17.2 days (412 hours)
the

average

is 29 days (688 h)
15.0 days (360 hours)
the

average

is 29 days (688 h)
Triple camera
Dual camera
Triple camera
48 MP (OIS, Laser and PDAF)
Aperture size: F1.5/F2.4; Focal length: 26 mm; Sensor size: 1/2.55"; Pixel size: 1.4 μm
Aperture size: F1.5; Focal length: 27 mm; Sensor size: 1/2.6"; Pixel size: 1.4 μm
Aperture size: F1.6; Sensor size: 1/2"; Pixel size: 0.8 μm
12 MP (Telephoto, OIS, PDAF)
16 MP (Ultra-wide)
8 MP (Telephoto, OIS)
Optical zoom: 2.0x; Aperture size: F2.4; Focal Length: 52 mm; Sensor size: 1/3.6"; Pixel size: 1 μm
Aperture size: F1.9; Focal Length: 16 mm; Sensor size: 1/3.1"; Pixel size: 1 μm
Optical zoom: 3.0x; Aperture size: F2.4; Pixel size: 1 μm
16 MP (Ultra-wide)
16 MP (Ultra-wide)
Aperture size: F2.2; Focal Length: 12 mm; Sensor size: 1/3.1"; Pixel size: 1 μm
Aperture size: F2.2; Focal Length: 17 mm
3840x2160 (4K UHD) (60 fps), 1920x1080 (Full HD) (240 fps), 1280x720 (HD) (960 fps)
3840x2160 (4K UHD) (60 fps), 1920x1080 (Full HD) (60 fps), 1280x720 (HD) (240 fps)
3840x2160 (4K UHD) (60 fps), 1920x1080 (Full HD) (240 fps), 1280x720 (HD) (480 fps)
HDR, Time-lapse video, Hyperlapse, EIS, Video calling, Video sharing
HDR, Time-lapse video, EIS, Video calling, Video sharing
Time-lapse video, Continuous autofocus, EIS
10 MP
8 MP
16 MP
3840x2160 (4K UHD)
1920x1080 (Full HD) (60 fps)
1920x1080 (Full HD) (30 fps)
6.20 x 2.92 x 0.31 inches (157.6 x 74.1 x 7.8 mm)
5.98 x 2.83 x 0.33 inches (151.9 x 71.8 x 8.4 mm)
6.40 x 2.99 x 0.35 inches (162.6 x 76 x 8.8 mm)
6.17 oz (175.0 g)
the

average

is 6 oz (171 g)
5.89 oz (167.0 g)
the

average

is 6 oz (171 g)
7.27 oz (206.0 g)
the

average

is 6 oz (171 g)
Back: Glass (Corning Gorilla Glass 5); Frame: Aluminum
Back: Glass (Corning Gorilla Glass 6); Frame: Aluminum
Back: Glass (Corning Gorilla Glass 5); Frame: Metal
Water, Dust; IP68
Water, Dust; IP68; MIL-STD-810 certified
2D Face unlock, Ultrasonic in-screen fingerprint
3D Face unlock, Fingerprint (touch)
2D Face unlock, In-screen fingerprint