First official OnePlus 7 teaser video is here, promises fastness and smoothness
13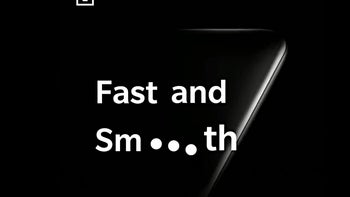 OnePlus may not be a household name in the US, but the company is pretty famous in other regions. And, with last year's release of the
OnePlus 6T
through T-Mobile, OnePlus showed us that it's serious about its presence in the North American smartphone market and wants to grow here.
This year,
OnePlus
seemingly plans to simultaneously launch two new high-end Android smartphones (
OnePlus 7
and
OnePlus 7 Pro
), and we now get to see the very first official teaser video that pre-announces them. Pete Lau, OnePlus co-founder and CEO, just shared the short video embedded below, indirectly confirming the name of the company's next smartphone family. While the
OnePlus 7
name isn't actually mentioned, the device itself is partially visible in such a way that its top and right edges create a 7. We can also notice that the phone has a curved display, which probably means this is the Pro version, since the regular OnePlus 7 is rumored to have a flat screen. According to Pete Lau and the teaser, the OnePlus 7 (or maybe just the Pro model) will be "fast and smooth."
Earlier today, we heard that the
OnePlus 7 Pro should sport
a 6.64-inch Super AMOLED display with a 90 Hz refresh rate - higher than the refresh rate offered by the screens of most other smartphones currently on the market (60 Hz). Such a display could indeed provide smooth visuals, particularly in high-demanding games.
Allegedly, both the OnePlus 7 and OnePlus 7 Pro will be powered by Qualcomm's Snapdragon 855 processor - the same high-end chipset that's used by Samsung in its
Galaxy S10
flagship series, as well as by LG in its
G8 ThinQ
. In combination with at least 8 GB of RAM (expected on both new phones), the Snapdragon 855 should ensure that the OnePlus 7 family is fast no matter what you throw at it.
Excited to share the next product from OnePlus will unleash a new era of Fast and Smooth. Especially Smooth! Smooth is more challenging than Fast - a true test of hardware and software.



The new product is just beautiful - I can't wait for you to see it! pic.twitter.com/yPU9sEbeIv— Pete Lau (@petelau2007) April 17, 2019
OnePlus 7 versus OnePlus 7 Pro
As already mentioned, the OnePlus 7 is expected to sport a flat screen, so the OnePlus 7 Pro should be the only variant with a curved screen. In fact, the regular
OnePlus 7 may look a lot like
last year's
OnePlus 6T
, having a small notch at the top of its display (hosting a selfie camera) and a dual rear camera. In contrast, the OnePlus 7 Pro reportedly features a pop-up selfie camera - this allows its screen to occupy almost the entire front side of the smartphone, uninterrupted by notches or in-display holes. The OnePlus 7 Pro should also bring a triple rear camera and a 4,000 mAh battery (slightly bigger than the 3,700 mAh battery that's rumored to be packed inside the OnePlus 7).
OnePlus 7 series release date and price
At the moment, there is no official word on exactly when the OnePlus 7 and OnePlus 7 Pro will be announced. However, rumor has it that both handsets will be
fully unveiled on May 14
, so we expect them to go on sale shortly after that. A
OnePlus 7 Pro 5G
might also be released in select markets at some point, but not in May.
We think that at least one OnePlus 7 model will be sold via T-Mobile in the US, although this remains to be confirmed. As for prices, these could start at about $600 for the regular OnePlus 7, and about $700 for the OnePlus 7 Pro. Again, this remains to be confirmed, but we're basing our assumption on the fact that, over the years, OnePlus has continuously increased the prices of its smartphones, culminating with the OnePlus 6T (launched in November 2018 starting at $549).