OnePlus 6 beats LG G7 at pre-launch popularity contest?
15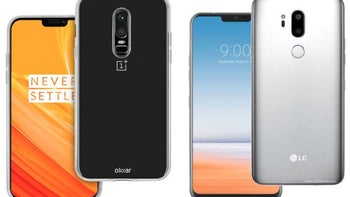 So, we are expecting two major smartphone launches in the next couple of weeks. One is LG's next flagship — the
LG G7 ThinQ
—, while the other is the up-and-comer OnePlus' next "flagship killer" — the
OnePlus 6
.
Both of these devices will have something to fight for. LG is trying to regain the love of the users, as it has kind of wavered over the past couple of years. OnePlus, on the other hand, is striving to become more popular and enter the mainstream. Both companies have been doing good with moving towards their goals last year — the
LG V30
was a really refreshing and well-received phone, while the
OnePlus 5
and
5T
started to really get "non-geek" attention. So, both companies' 2018 flagships certainly need to be solid.
We thought we'd measure excitement — which brand do you care more about at this point? So we ran a poll. While we did expect LG to be a bit behind, due to it falling out of favor while OnePlus is the exciting new thing, we didn't expect that much of a difference! Here's hoping that the
G7 ThinQ
really blows our minds and puts LG back in the race!