OnePlus 6 battery life test results: above average
15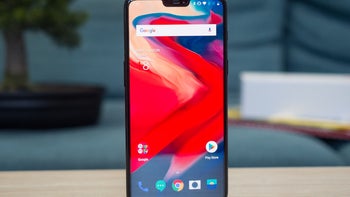 The newest
OnePlus 6
has just gone through our proprietary battery life test and the results are in.
We have been using the new OnePlus 6 for more than two weeks now and it has all been a breeze as the phone gets us through a full day with ease, but to get a true understanding of its battery life we had to compare it on equal terms with other devices.
The OnePlus 6 features a 3,300 mAh battery and the latest Snapdragon 845 system chip on board. While the chip is new, the battery is the same size that we have seen in the OnePlus 5 and OnePlus 5T. With a few extra pixels from the slightly larger screen, though, we were curious to see how the phone performs.
Interestingly, the OnePlus 6 battery life score is lower than that of the earlier OnePlus 5 and 5T. The 6 scored 8 hours and 10 minutes on our battery test, while the 5T result was some 40 minutes higher and the 5 result was even higher, lasting an hour and some 20 minutes longer.
You can clearly see that the OnePlus 6 is slightly above the average for a flagship phone, but while other phones have improved their showing, the 6 seems to last slightly less than its predecessors.
Record charging times
Another important aspect of the battery experience is the time it takes to recharge your phone.
While the OnePlus 6 does not support nice modern conveniences like wireless charging, it comes with the well-loved Dash Charge feature. OnePlus seems to have some issues trademarking it, so it refers to the feature as simply fast charging now, but the Dash branding remains present on the cable, so for simplicity sake we'll just refer to it by its old name.
Dash Charge promises of delivering "a day's power in half an hour" and it lives up to that promise. Not just that, in our testing, it took just 1 hour and 20 minutes to get a full charge, from 0 to 100%, the best result from any phone.
So while the OnePlus 6 is not quite the phone with best battery life out there, we found that it easily gets us through a full day of use and that its fast charging is not merely fast, it's the quickest that we have ever tested in the past couple of years. Good job, OnePlus!