OnePlus 3 leaks entirely: specs, features, price and all official pictures
41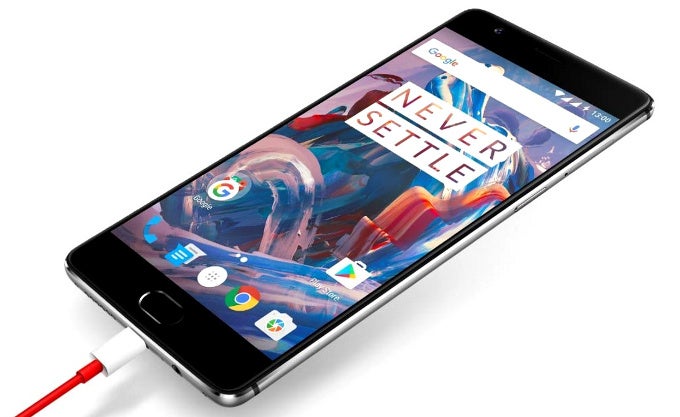 The OnePlus 3 will get officially unveiled in a well-prepared event that kicks off in mere hours, but the surprise has already been spoiled: the phone has leaked in its entirety on Amazon India.
And we mean that really everything there is to know about the OnePlus 3 has leaked: its specs, its official pictures, 4G LTE bands, battery info and whatever else comes to mind.
The OnePlus 3 is a metal phone with its body made out of a single piece of aluminum that is slightly curved and features prominent antenna bands, not unlike Apple's iPhones and HTC's One series of phones. Is there too much copying going on here? These days, it seems that more and more phone makers are leaning towards this design and it's becoming nearly universal, so we leave the judgment to you.
As to the specs, the OnePlus 3 features the latest and most powerful Qualcomm Snapdragon 820 system chip with an over-abundant 6GB of RAM. To our knowledge, this is the first mainstream phone to have 6 gigs of RAM, and that should make multitasking a breeze, with the possibility to open tens of apps.
Here is a quick run-down of the OnePlus 3 specs:
OnePlus
3
Platform
Oxygen OS
based on Android 6.1 Marshmallow
Dimensions
152.7 x 74.7 x 7.35 mm
158 g
Display
5.5" Optic AMOLED
with 1080 x 1920 pixel resolution
SoC
Snapdragon 820
RAM
6 GB
Cameras
16MP f/2.0 rear cam (Sony IMX 298, 1.12μm pixel, PDAF) w/ OIS, EIS
8MP f/2.0 front camera
Storage
64 GB UFS 2.0
Battery
3,000 mAh
Extra features
Dark Mode, Dash Charge
Interestingly, OnePlus lists its 3 model to run on Android 6.1 Marshmallow, a version that is not yet available, so it could be a hint at what's to come in the future when the phone launches, or simply a mistake that is meant to say Android 6.0.1. We're looking to clarify this.
Design: one piece of metal and a mute switch
OnePlus has really upped its design game with the OnePlus 3. Its previous OnePlus and OnePlus 2 were made well, but featured some weird textures and felt decidedly bulky. The OnePlus 3 is all-premium with a metal build, it's made of a single, machined piece of aluminum and it's also remarkably thin at 7.3mm, almost on par with the iPhone 6s Plus. With a slight curve to its back, the phone also fits in the hand comfortably.
The OnePlus 3 is also one of very few Android phones to have a mute switch. It's a 3-way switch that seems to work just as on the OnePlus 2, and it's great having it.
Three models: North American, European and Chinese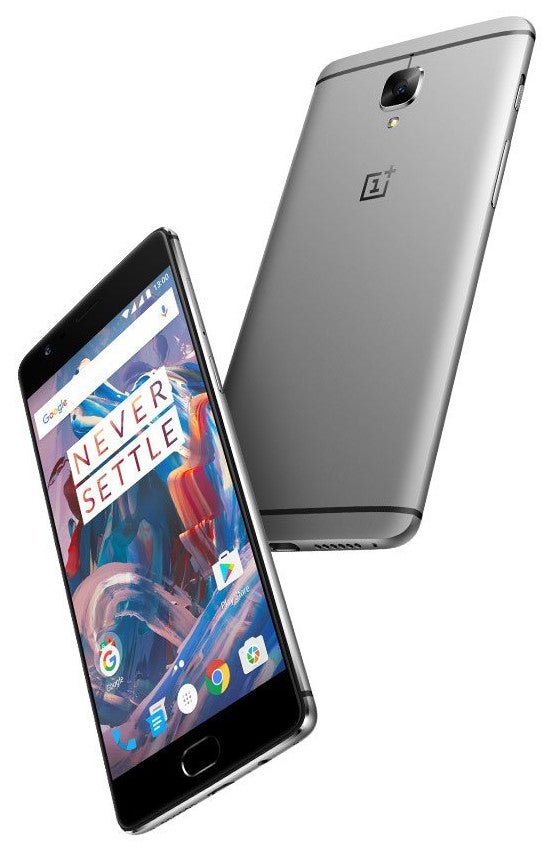 The OnePlus 3 will come in three models: one aimed at the United States and the North American market in general, another one for Europe, and a third one for the Chinese market.
The US version of the OnePlus 3 supports 4G LTE bands 1, 2, 4, 5, 7, 8, 12, and 17. This covers AT&T and T-Mobile's bands, plus it also covers band 2 and 4 used by Verizon Wireless, but not its main band 13. There is no support for Sprint's 4G LTE bands. Take a look at the bands US carriers use and which ones they rely on the most in our
4G LTE cheat sheet
.
The European model supports 4G LTE bands 1, 3, 5, 7, 8 and 20, so you should be all covered, and that's in fact the same band support as needed for Asian markets outside of China.
Camera with optical and electronic stabilization
On its back, the phone has a 16-megapixel camera with optical stabilization, as well as digital one. It supports 4K video at 30fps as well, which is nice. The sensor also has phase detection pixels for faster auto-focus.
OnePlus 3 price and release date
The OnePlus 3 is listed for sale in India for the quite affordable price of $415 (28,000 Indian rupees), and this makes the OnePlus 3 one of the most affordable Snapdragon 820 phones out there, along with Xiaomi's Mi 5.
How do you like what you see? Are you planning on buying the new OnePlus 3?
Thanks to all of our readers from India who sent this in!
Note: The Amazon India page has been pulled, but you can see the Imgur mirror of the pages at the source link below.