One step closer to the future of medicine: urine checks arrive to smartphones with Uchek
18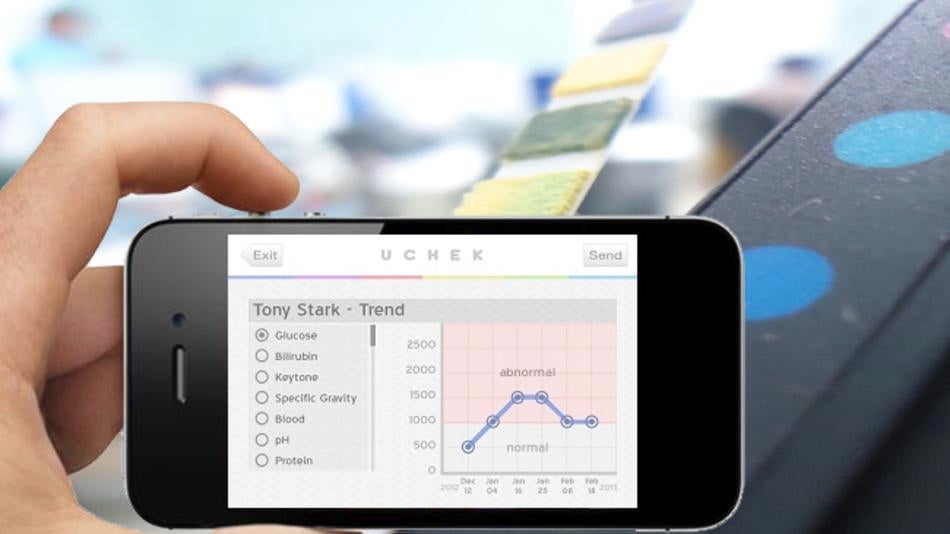 "Everybody pees, and everybody carries a cellphone,"
Myshkin Ingawale, co-founder of med tech company Biosense Technologies, the maker of an upcoming iPhone and Android app Uchek, said unveiling the new app.
"We figured we had to be able to do something with this."

Everyday health diagnostics at home is something we imagine would be a key part of our future health care, and Uchek is an important step towards that. It tests your urine and can alert you early about kidney and/or liver issues.
Ingawale - a man with a great sense of humor - announced the new app at TED to laughing and applauding crowd after he tested the app live on stage with a bottle sample from an audience member.
He might kid about calling the app
"iPee,"
but urine checks in your bathroom might be not just life-improving - they can be life-saving.
Right now, to get a urine check, you have to go into a hospital where urine is tested using one of six available brands of analyzers, each using expensive urine strips that are not compatible with others.
The Uchek on the other hand is much simpler, using cheap urine strips that change color after you pee on them. You have to take a few photographs of those strips over a couple of minutes. They use 10 pads that deliberately change color, but instead of using an expert you can use your smartphone to analyze those. It is almost like reading a QR code.
After the analysis is done you get a breakdown of the chemical components in your blood. And below you can see a video with Ingawale about another mobile health solution from last year.
We have long said there should be more you can do with your smartphone than call, check your email and play Angry Birds. It takes real effort to bring substantial, meaningful innovation, though, and luckily there are people in the world committed to delivering just that.
source:
Mashable
Recommended Stories