Older Pixel phones now getting automatic Call Screen feature
3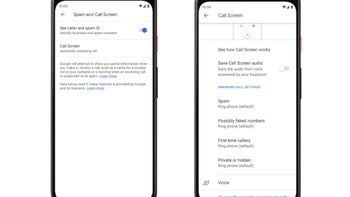 Automatic Call Screen is one of the new features that Google added to the
Pixel 4
/XL last year. However, the search giant promised to bring to older Pixel models, although it didn't say when and which devices will get it.
When automatic Call Screen detects is enabled, it acts as a spam detector and ensures that robocalls aren't going through. The feature is screening all your unknown calls and lets Google Assistant know if it's spam or not. More importantly, Call Screen works on the Pixels without using mobile data or Wi-Fi, so once it's enabled it will not be dependent on connectivity.
The automatic call screening feature that's been exclusively available to
Pixel 4
users until recently can be found in the phone's
Settings
under the
Spam and Call Screen
tab. You must enable the
See caller and spam ID
option to benefit from this specific feature. Make sure that you tap on
Call Screen
and under
Unknown call settings
select the types of callers you want to be screened.
Keep in mind that you can choose the option to let the feature automatically screen and decline robots, but you can also select one of the other two options:
Ring phone
and
Silently decline
.
Now that we've told you how to use Call Screen, it's important to mention that it's now making its way to older Pixel phones.
AndroidPolice
reports a Google spokesperson confirmed that it's now being rolled out to
Pixel 2
/XL and 2016 Pixels, but be patient if you don't see it on your phone yet.