Oh, the irony: $70 Android ICS computer is called the iStick, supports multitouch on up to 120" screens
10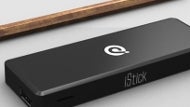 Android-powered gadgets are
proliferating these days
, and we are waiting for the Jelly Bean motorized can opener, but the PQ Labs iStick with Android 4.0 certainly stands out, both as a price point, and as a naming choice.
As small as a USB flash drive, the iStick makes your dumb TV a smart one, as it will offer up to a 1.8GHz dual-core processor, 1GB of RAM and 4GB of internal memory inside with a microSD slot for expansion. The iStick supports desktop resolutions up to 720p, and can stream up to 1080p Full HD movies. Since it has an USB port, it supports wired and wireless
USB Mouse/Keyboard, USB Hard Drive, USB Hubs and so on.
Here's where it gets interesting. PQ Labs have their touchscreen overlays, which are fairly easy to install and can turn your regular TV or any screen, really, into a big touch-enabled display. The iStick supports those in up to 120" size, provided that you want to interact with the screen directly. Starting from $69 for the A100 1GHz single-core version (A200 coming later), the iStick will be shipping in August as a fairly inexpensive way to pimp up your oldie-but-goodie HDTV. Have a look at the video below demoing the touchscreen overlay installation that one might be tempted to supplement the iStick thingy with.
Recommended Stories