This is the official Galaxy Note 8 Alcantara case and it's... different
11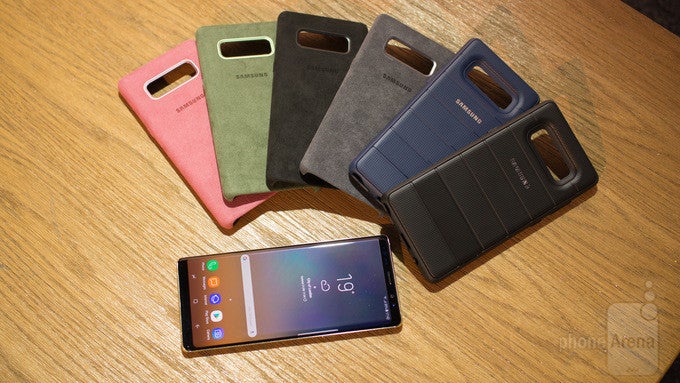 Along with the
Galaxy Note 8
, Samsung introduced a range of
official Note 8 cases
meant to protect the 1000-dollar handset – cases ranging from thin and light to thick and rugged. We had the chance to check them out while test-driving the Galaxy Note 8, and while most of them were conventional and straightforward with their design, this particular case type felt different. Very different. The one in question is the Galaxy Note 8 Alcantara case.
Now, if you're not familiar with the material, Alcantara is a brand of synthetic fabric similar to suede in texture and appearance, but more durable and resistant to stains or water than its natural counterpart. Because of these properties, it is not uncommon to see Alcantara covering the interior of premium sports cars like those from Porsche and Lamborghini. Official Samsung Alcantara cases were also launched for the
Galaxy S8
and
Galaxy S8+
.
However, we have a feeling that Samsung picked the exotic material mainly because it stands out right away – it gives you a feeling of exclusivity in a world where 9 out of 10 phone cases are made of uninspiring plastic, with sophistication rarely a priority. This isn't a case meant only to protect. It is a status symbol. And in a way, it is kind of like those silly Moschino french fries cases, but for grown-ups.
Does it look and feel good? Well, we're sure opinions will be polar. On one hand, some will dig the coarse texture of Alcantara simply because of its unorthodox nature. Others would see it as a terrible match for the Galaxy Note 8's glass-and-metal design. But the grip and the soft feel make the fabric likeable from a practical standpoint. And since the shell is hard and rigid on the inside, we're sure it will survive more than a few drops on the pavement.
Just like any case should, this one does not interfere with the operation of the Galaxy Note 8. All ports, jacks, cameras, and buttons remain accessible. Even the fingerprint scanner is less difficult to find without looking. And yes,
wireless charging
will work even when the case is on. As for the DeX station, Samsung clarifies that its latest revision to the dock makes it possible to use the Note 8 even with a case on, though we didn't have time to test this personally.
Pricing? Well, these go for 50 bucks apiece. It is expensive for a case that doesn't do much, but we suppose that won't matter to those ready to spend a grand on the Note 8 itself.