Official Facebook app gets an update for Windows Phone Mango
7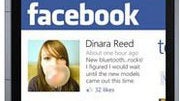 Unless it brings something huge, an update to an app would rarely deserve all that much attention, but given that we're talking about Facebook for Windows Phone and it gets updated pretty rarely makes it different. The official Facebook application has been updated to version 2.2, optimized for Windows Phone Mango.
The app adds a couple of novelties but probably the most notable one is the possibility to
pin various elements to your homescreen
. For example, you can pin your messages to the homescreen, so everytime you receive a new message, you get the corresponding live tile updated. Taking into account, Facebook's recent integration of email to the messaging app, this could prove very useful from a productivity standpoint.
You can pin other elements as well: news feeds, photos, friend requests, notifications as being tagged in photos, etc. Toast and tile notifications are now supported as well.