Of the top 5 handset manufacturers in the U.S., only Apple has shown growth since June
20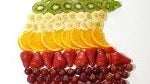 With the U.S. economy as bad as it is, even the cell phone industry is beginning to have some problems. Of the top five U.S. handset manufacturers, only one showed any growth during the third quarter.
Apple's share of the Stateside handset market rose 1.3%
during the three month period to give the iPhone a double digit U.S. marketshare for the first time in history. Apple's 10.2% slice of the pie was good enough for third place, trailing the 25.2% of the U.S. handset market controlled by
Samsung
, and the 20.6% belonging to fellow Korean firm
LG.
Samsung didn't gain ground in the third quarter, but didn't lose marketshare either. LG and
Motorola
each lost .7% of their U.S. share while
RIM
lost .8%.
The survey, conducted by analytics firm comScore, addressed more than 30,000 mobile subscribers aged 13 or higher and found that on average 234 million Americans used mobile devices in Q3 with 87.4 million of them using smartphones. That is a 12% gain year-over-year. Among smartphone users, the number one platform is
Android
as 44.8% of mobile users turn to the green robot to drive their smartphone, a 4.6% gain from the prior quarter. Apple's
iOS
was number two, gaining .8% to control 27.4% of the U.S. smartphone market. Number three was
RIM
with 18.9% followed by
Microsoft
and
Symbian
with 5.6% and 1.8% of the U.S. market respectively.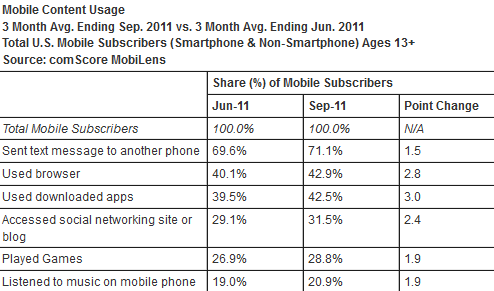 A large majority of U.S. cell phone users like to text
It might seem strange that comScore's survey shows an increase of 2.8% over the period in the number of cell phone users who browse the web on their phone to 42.9% That leaves a majority of 57.1% of U.S. cell phone users that
don't touch the browser
on their phone. Those downloading apps had the biggest increase in function, rising 3% to 42.5%.
So what are cell phone users doing with all that computing and communication power in the palm of their hand? Well, 71.1% of them are using their handset for
texting
, an increase of 1.5% from the quarter that ended in June. It seems that a large number of Americans are buying a phone with features that they don't need. For many of those who own a smartphone, a simple featurephone would apparently have all of the things they do need in a handset, like a physical QWERTY keyboard.
source:
comScore
via
AppleInsider