OUYA makes it to the FCC, shows off the full monty
6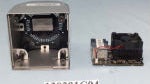 The Android-powered gaming console OUYA has already started shipping to its many Kickstarter backers, and the plan is to have the consoles out to all backers by the
end of May
. That would be just in time for the official release date of the console, which is scheduled for
June 4th
. Of course, before it can have its official release to retail, it has to go through the FCC and it looks like it is doing that right now.
OUYA's FCC filing is actually a lot more detailed than most FCC filings we get to see around here. Usually, we get little more than a model number of a device, and maybe a product outline, but OUYA is showing the full monty. There are images (many with a ruler to show scale) of the entire outer casing, and even the internals of the device. OUYA is quite small, and it seems like most of the inside is taken up by a pretty large fan. The fan was expected because OUYA has said that it worked with NVIDIA to make the Tegra 3 work
as hard as possible
, which should be pretty hard, since the console doesn't need to worry about battery life, like most other Tegra 3 devices.
All of the pics, plus plenty of technical spec testing in the filing at the source.