Now that Share Everything has arrived Verizon is ending tablet subsidies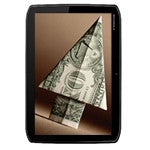 File this under "things we should have seen coming." With the arrival of Verizon's
Share Everything plans
the carrier has dropped their subsidized pricing structure for tablets. Since adding a tablet to your shared plan only adds $10 per month it wasn't financially viable to knock several hundred dollars off the price of 4G tablets for a two month contract.
According to Tech Crunch this actually happened "late last month", although Verizon has not yet offered an official comment. Surfing over to Verizon's web page confirms that all tablets are being sold at full MSRP there, and there really isn't any other option now that tablets are such a cheap add on to the data plan. And yes, we know that some of you who add tablets might have to increase the size of the data plan, but you aren't locked in to that higher data package, so that still wouldn't cover subsidized tablet sales.
This may have a positive impact on pricing – right now the actual price of cell-enabled Android tablets has largely been hidden because they were mostly advertised at the subsidized price, which made them "cheaper" than the iPad, which hasn't been offered with a subsidy. Now that the subsidy is gone, the Motorola Droid XYBOARD, for example, is price matched exactly with the new iPad, a situation that isn't really tenable as the iPad is a far more popular device.
So with any luck this will help drive price competition in the 10 inch tablet space. On the other hand, you'll need to save up for a few more weeks before plunking down your money to purchase a tablet at a Verizon store. With shared data plans on the way
from AT&T
at the least, we expect Verizon's shift in pricing strategy to become a reoccurring trend.
source:
TechCrunch
via
Phandroid