Note5 TouchWiz vs Note 4 TouchWiz UI comparison: what changed with Samsung's skin?
36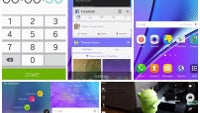 Even if you're only a casual reader, it's quite unlikely that you haven't noticed that we've been dedicating inordinate amounts of time covering Samsung's two new super-phablets — the
Note5
and
S6 edge+
.
Of course, with a family name as renown as this, the Note5 is still the public's favorite, and we'll admit that we've been spending more time talking about it than the Galaxy S6 edge+. As it happens, last night was all about discussing one of the key advantages of the Note5 over the Note 4: its updated TouchWiz interface.
Now, we know not everybody is a fan of Samsung's new approach to software design (less is suddenly more), and that's fair, but we'd still argue that TouchWiz on the Note5 looks and feels better than TouchWiz on the Note 4. This may sound a little confusing — after all, aren't both devices running a build of Android Lollipop? They are. But Samsung has integrated into the Note5 the same iteration of TouchWiz that is available with the Galaxy S6, though there are obviously some extra perks available with the productivity-oriented phablet.
So how do the two compare, and what's different? We've prepared a large collection consisting of several dozens screengrabs for your reference, available right below. Let's take a look.
Note5 always on the left/top; Note 4 always on the right/bottom.