Note 10 may be released with ultrafast 12GB DDR5 memory, Samsung preps 16GB for Note 11
14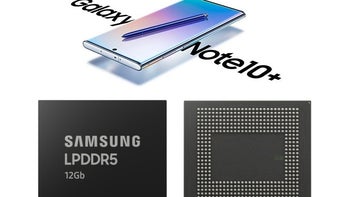 Samsung just took to the airwaves, announcing to the world that it has "
begun mass producing the industry's first 12-gigabit (Gb) LPDDR5 mobile DRAM, which has been optimized for enabling 5G and AI features in future smartphones
."
Eight of these new generation of RAM modules for mobile devices can be packaged into one 12GB DDR5 RAM stack for flagship phones, and Samsung intends to start doing just that by the end of the month.
This 12GB LPDDR5 stack will be 30% faster (5500Mb/s vs 4266Mb/s) than the 12GB LPDDR4X that is in, say, the Galaxy S10 5G, and at the same time 30% more power efficient. To achieve this level of frugality and the performance boost, Samsung has integrated the circuit design for more stable performance with the higher clock rates.
The example it gives is that with the new memory chips, your phone will be able to transfer 44GB of data, or a dozen of 1080p movies per second. That's certainly very impressive, but we can't wait to see how it improves the current chokehold in camera performance - 4K video recording. Needless to say, with 5G network speeds and latency comes the need for higher memory throughput, and Samsung just delivered.
When can we see the new 12GB DDR5 chip in a phone? Well, it's not by accident that Samsung is announcing this a few weeks before the
Galaxy Note 10
unveiling, and it also adds that it will expand to 16GB modules next year, just in time for its successor, or, hopefully, for the
S11
crop.
The Note 10 is scheduled to come with a new
Exynos 9825
chipset, the first made on the second-gen EUV 7nm process, and if Samsung couples that with the new DDR5 RAM chips, the boost in performance should be quite significant. Here's a timeline of Samsung's mobile RAM achievements, with the 16GB unit only a hint for now.
Samsung Electronics, the world leader in advanced memory technology, today announced that it has begun mass producing the industry's first 12-gigabit (Gb) LPDDR5 mobile DRAM, which has been optimized for enabling 5G and AI features in future smartphones. The new mobile memory comes just five months after announcing mass production of the 12GB LPDDR4X, further reinforcing the company's premium memory lineup. Samsung also plans to start mass producing 12-gigabyte (GB) LPDDR5 packages later this month, each combining eight of the 12Gb chips, in line with growing demand for higher smartphone performance and capacity from premium smartphone manufacturers.

"With mass production of the 12Gb LPDDR5 built on Samsung's latest second-generation 10-nanometer (nm) class process, we are thrilled to be supporting the timely launch of 5G flagship smartphones for our customers worldwide," said Jung-bae Lee, executive vice president of DRAM Product & Technology, Samsung Electronics. "Samsung remains committed to rapidly introducing next-generation mobile memory technologies that deliver greater performance and higher capacity, as we continue to aggressively drive growth of the premium memory market."

Thanks to its industry-leading speed and power efficiency, Samsung's new mobile DRAM can enable next-generation flagship smartphones to fully leverage 5G and AI capabilities like ultra-high-definition video recording and machine learning, while greatly extending the battery life.

At a data rate of 5,500 megabits per second (Mb/s), the 12Gb LPDDR5 is approximately 1.3 times faster than previous mobile memory (LPDDR4X, 4266Mb/s) that is found in today's high-end smartphones. When made into a 12GB package, the LPDDR5 is able to transfer 44GB of data, or about 12 full-HD (3.7GB-sized) movies, in only a second. The new chip also uses up to 30 percent less power than its predecessor by integrating a new circuit design with enhanced clocking, training and low-power feature that ensures stable performance even when operating at a blazingly fast speed.

In order to manage production capacity with more flexibility, Samsung is considering transferring its 12Gb LPDDR5 production to its Pyeongtaek (Korea) campus starting next year, depending on demand from global customers. Following its introduction of the 12Gb LPDDR5 mobile DRAM, Samsung expects to also develop a 16Gb LPDDR5 next year, to solidify its competitive edge in the global memory market.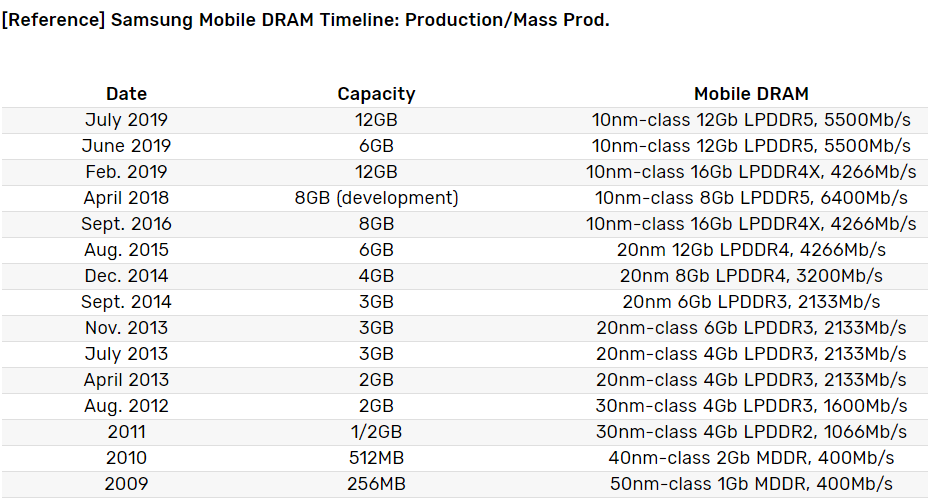 Recommended Stories