Not-yet-functional VPN feature found on Android 5.1
12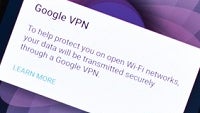 As
Android 5.1 makes its way
on stage for the Nexus faithful, everyone is exploring the new features and observing if their device is performing better with the new OS build.
While the standard encryption settings for Android 5.0 have been considered a possible sore point for hardware performance, but there were optimizations to be made to ART runtime. For some users, features like support for HD voice depend on their carrier. New device protection features will hopefully not need to be tested anytime soon.
With data security still near the top of the list for any seasoned user, it is interesting to learn that Android 5.1 has a new feature deep inside, the ability to set up a virtual private network (VPN). Actually, it is an inability because apparently the feature is not operational yet.
There is an app called Google Connectivity Services. Pocketables found the feature, and given the app's non-functional state, it apparently proved to be less than willing to start.
However, once started, the app gives us a peak at what Google has in mind for at least part of the future of Android. Google Connectivity Services gives you (will give you) the option to connect to an open network via VPN, thus protecting your data.
Google's intentions by adding this feature are up for speculation, but smart money says it is a feature that will be enabled with the launch of Google's upcoming wireless service. Whether or not it could be activated for everyone through a future maintenance update is up for discussion too.
Given the framework that Google has stated it would be operating its MVNO, enabling VPN for voice and data would be a nice feature to tout about when there are hand-offs between the Sprint or T-Mobile network and an open Wi-Fi connection.
sources:
Pocketables
via
SlashGear