Not dead yet: Moto X is 'alive and well' says Motorola
21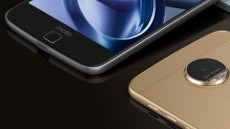 After a fair bit of speculation and build-up, Lenovo finally unleashed
the Moto Z
and
Moto Z Force
smartphones at its Tech World event yesterday. We've been led to believe that the new 'Z' range will
outright replace the popular pre-existing Moto X line
. However, Lenovo / Motorola has issued to a statement to clarify that this is not strictly the case. So for fans of devices such as last year's popular
Moto X Pure
, further upgrades could well be in the pipeline.
Early impressions of the two new modular handsets are very positive.
Both fairly similar
, the Force model gets a few perks such as a bigger battery and a slightly better rear-facing camera. Whilst each is very sleek and svelte in terms of profile, the standard Moto Z is immediately eye-catching for its sheer thinness. Yet as a device with a 5.5-inch quad-HD display, 4 gigs of RAM, a Snapdragon 820 chip
and all the rest of it
, one has to question whether a 2600 mAh battery will suffice in keeping the lights on.
While plenty of innovation has gone into these exciting new devices, the Moto X may not be completely dead in the water. According to a statement issued to the folks at
Android Police:
Moto X is alive and well. In fact, Moto X Force recently launched in multiple new markets around the world. Moto X and Moto Z do share some great qualities, but they ultimately provide different experiences and make our portfolio more robust for consumers looking for the perfect smartphone to fit their needs. Tech-hungry consumers who are looking to get a brand new set of experiences from their smartphone will turn to Moto Z and Moto Mods.
Of course, Lenovo may simply not wish to burn bridges until it has seen the response to the Moto Z and Moto Z Force, due to hit the market in September. With the Moto X branding having gained plenty of respect throughout the tech community over the last couple of years, killing it off completely would make little sense at this point.
The Moto Z differs from the Moto X in some regards, though retains that flagship feel. Thus, despite what the statement says, the new Z devices could still prompt the demise of the X.
Still, we wouldn't balk at any additions to the Moto X range in the near future, would you?