Nokia's new ClearBlack screen pitted against Samsung's Super AMOLED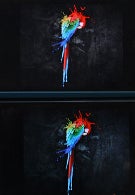 One of the first tests of Nokia's new ClearBlack screen technology comes courtesy of a Russian mobile blog. The folks over there got their hands on the new
Nokia E7
, with a ClearBlack screen, and just so happened that there was a
Galaxy S
sitting nearby, so they decided to play some pictures on both screens for our viewing pleasure. A
Nokia N8
with its 3.5" AMOLED display was also thrown in the mix for a good measure.
In a nutshell, Super AMOLED is still king of the vibrant, oversaturated colors, and deep blacks. The picture's details also looked more distinct on the Galaxy S, but that is due to the higher resolution of the handset at the same 4" size.
Nokia's ClearBlack screen, as found on the E7, is having its own advantages in brightness over the Super AMOLED, but that can also be said for most modern LCD screens - brightness was pumped to the max on both handsets. We hope to see more tests in direct sunlight - the ClearBlack will probably outshine the Super AMOLED in that situation.
Nokia E7 Specifications
|
Hands-on
Samsung Galaxy S Specifications
|
Review
source:
Mobiset.ru
via
DailyMobile