Nokia's mass transit and walking navigation arrives to iOS and Android, priced $3.99 by Garmin
13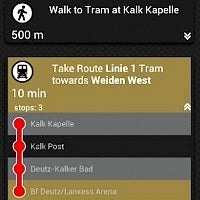 Garmin will offer public transport and walking directions supplied by Nokia as an in-app purchase in its iOS and Android applications. The service costs $3.99 ($2.99 for a limited time) and is branded as
Urban Guidance
.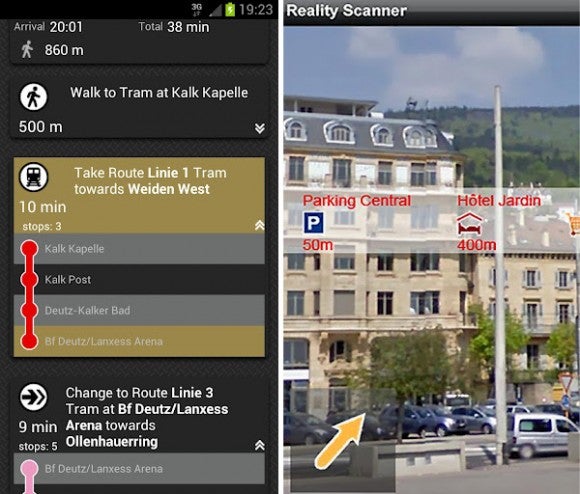 The package also includes pedestrian navigation, which takes into account the lesser speed, and shows bridges, stairs and walkways, as well as offers shortcuts across the park, for example.
Garmin's new Urban Guidance add-on can be added to its StreetPilot Onboard and Navigon apps for iOS, and to Navigon for Android, offering specific POIs that can be enjoyed better by the walking types. How much is Garmin paying Nokia for its Transit and Pedestrian Content (TaP) access wasn't disclosed.
Garmin selects Nokia's Transit and Pedestrian Content to power Urban Guidance
Information contained on this page is provided by companies via press release distributed through PR Newswire, an independent third-party content provider. PR Newswire, WorldNow and this Station make no warranties or representations in connection therewith.
SOURCE NAVTEQ Maps
Pedestrian and public transport routing around hundreds of the world's leading cities
CHICAGO, Sept. 27, 2012 /PRNewswire/ -- Nokia today announced that its Location & Commerce business is supplying its global Transit and Pedestrian Content (TaP) for Garmin's new Urban Guidance function. Adding this premium feature to NAVIGON & Garmin branded navigation apps will give consumers a choice of generating directions not only for driving and walking but also for public transport. Urban Guidance will initially be available via In App Purchase for the following smartphones: NAVIGON for iOS, NAVIGON for Android and also Garmin StreetPilot Onboard for iPhone.
Pedestrian centric TaP enables orientation and navigation on foot and via public transport. It includes elements such as walkways, bridges, tunnels, crossings, passages and stairs and also powers pedestrian routing across squares, parks and other open spaces. The public transport data features railways, tram and bus lines, stops, stations and access points.
"Nokia's Transit and Pedestrian Content allows us to take a step beyond the car and provide a very effective and relevant solution for navigating cities," explained Joern Watzke, vice president mobile phone business at Garmin Wuerzburg GmBH. "People in cities lead very busy lives and need to find the best way to get where they are going whether driving, walking or taking the bus. Using this original, high quality content, we can offer our consumers the best possible urban routing experience."
Smarter data and expanded choices enable the development of ground-breaking consumer experiences such as Urban Guidance - the first worldwide implementation of Nokia's Transit and Pedestrian Content. Available for nearly 400 locations around the world, TaP supports a full range of functionality and is optimised for delivery across a variety of mobile platforms. It can be used as a foundation with other visual and rich content added to develop the ultimate pedestrian experience beyond the car.
"Through an in-depth understanding of the complexities of location, Nokia Location & Commerce continues to build products and services which help guide people seamlessly to their destinations," added Bruno Bourguet, Senior Vice President Sales and Business Development, Nokia Location & Commerce. "With Transit and Pedestrian Content at its heart, Urban Guidance represents real added value for the consumer whether driving or walking and using public transport."
Nokia will be exhibiting at the Mondial de l'Automobile show in Paris at Hall 3, booth #213
Nokia Location & Commerce demonstrates its 'location' leadership in the global automotive space via numerous OEM collaborations and comprehensive partner demonstrations at Mondial de l'Automobile. Delivering on the needs of the ever-connected consumer has long been a focus of the in-vehicle industry. The ability of Nokia L&C to serve the expectations of today's 'connected driver' via fluid location-based products and services whether at home, walking in the city or in the car will be on full display and showcased to show how both customers and consumers alike benefit from smarter data and multi-screen, multi-modal choices.
About Nokia's Location & Commerce Business
Nokia is a global leader in mobile communications whose products have become an integral part of the lives of people around the world. The company's Location & Commerce business, including NAVTEQ® Maps products, the Nokia Location Platform as well as Nokia Maps, aims to build and monetize unique location experiences for great mobile products, as well as the navigation industry, the automotive market and government and business solutions. Begin to explore our capabilities at www.maps.nokia.com.
About Garmin Ltd.
The global leader in satellite navigation, Garmin Ltd. and its subsidiaries have designed, manufactured, marketed and sold navigation, communication and information devices and applications since 1989 – most of which are enabled by GPS technology. Garmin's products serve automotive, mobile, wireless, outdoor recreation, marine, aviation, and OEM applications. Garmin Ltd. is incorporated in Switzerland, and its principal subsidiaries are located in the United States, Taiwan and the United Kingdom. For more information, visit Garmin's virtual pressroom at www.garmin.com/pressroom or contact the Media Relations department at 913 397 8200.
(Logo: http://photos.prnewswire.com/prnh/20060313/NAVTEQLOGO)