Nokia's demise has more people questioning: is Stephen Elop the worst CEO ever?
99+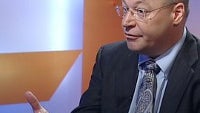 You know one company that is in dire straits these days? You might think RIM, and you'd be right it's in huge trouble, but there is another company that slumped so spectacularly we are still trying to wrap our heads around how it's even possible to lose so much market share so quickly. We're talking about the Finns from Nokia, under Stephen Elop.
Ever since the release of the
"Burning Platform"
memo
to all Nokia employees, the ex-Microsoft office head and now chief executive at Nokia, Elop polarized opinions. While initially some were trying to make a point that the CEO just brought up the truth, now, it'd be hard to find someone thinking that this was not one of the costliest mistakes of a chief executive ever made.
At the time, just over a year ago, Nokia was selling nearly twice as many smartphones as Apple and more than three times more than Samsung.Now, in just a year, Nokia sells around four times less smartphones than Apple and Samsung. So what happened? Was this a terrible mismanagement? And should Elop be fired immediately? One person has been making the case from day one of the announcement of the Windows Phone adoption and the Burning Platform memo, and while he was a lonely voice a year ago, it seems now that the facts have stricken, investors might want to listen closely to what he has to say.
In a massive, 29,000-word breakdown of the management errors of Elop, Tomi Ahonen, ex-Nokia executive turned analyst, shows how the Nokia CEO misquotes ancient philosophers, collapses employee confidence and mind-bogglingly refuses to sell a device, even when he has proof that it would bring Nokia profits. We won't spoil the whole thing and there is definitely some bias and hurt Finnish pride in Ahonen's words, but the stubbornness and loudness with which he presented his case in the past year definitely deserves attention, now that Nokia is burning its last cash and literally on the verge of collapsing. Hit the source for an interesting read, and also check out Ahonen's comparison of MeeGo and Microsoft's Windows Phone right after it.
What do you think, should Elop be fired or do we still need to wait to see Nokia's Windows Phone 8 devices come and save the day?
source:
Communities Dominate Brands