Nokia unveils pink Lumia 900, soon on AT&T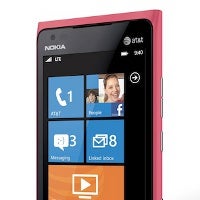 The Nokia Lumia 900 might be the current Windows Phone flagship and only around three months old, but if you're following the latest news around the platform you already know that it's not getting updated to Windows Phone 8. That alone is a huge dealbreaker for many, so unless you're madly in love with the phone we'd wait a couple of months for the first Windows Phone 8 devices to arrive.
But Nokia is still doing its best to sell the handset available on AT&T in the US - it's now releasing the Lumia 900 in pink. That unibody polycarbonate construction guarantees that it will retain its color integrity even when scratched. It's soon coming to AT&T.
To freshen up your mind, the Lumia 900 runs on Mango and features a 1.4GHz processor, an 8-megapixel camera with Carl Zeiss lens.
source:
Nokia Conversations