Nokia to host an April 19 event?
57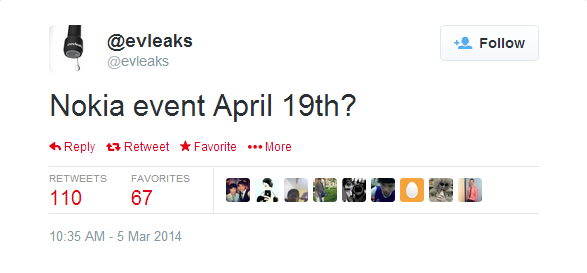 Another day, another leak. According to@evleaks, Nokia might be hosting an event on April 19. There is aquestion mark attached to the tweet, and another question, of course,is the cause for the occasion. We are making an educated guess thatthe event will be related to Windows Phone 8.1, as the update isexpected this spring, between April and June.
Being Microsoft's strongest mobile arm,we expect Nokia to spearhead the launch of the new Windows Phone 8.1platform with at least one new handset - probably a successor to theLumia 920. Our bets are on the rumored WP 8.1 device codenamed"Martini".
In addition to it, Nokia has twodual-SIM models in its pipeline - the Lumia 630 and 635. They bringalong another possibility for the upcoming event - if it happens,that is.
Nokia notably abstained from WindowsPhone at this year's MWC expo. It focused on its latest low and mid-rangelineup, which consists of a new featurephone, a new Asha smartphone,and a new X-series of smartphones based on Android. The silencearound Windows Phone could be considered as a warning for theoncoming storm.
source: @evleaks(Twitter) via WMPowerUser