Nokia to get "billions, not millions" from Microsoft
14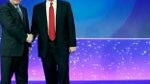 The
agreement
between Nokia and Microsoft has polarized opinions to a point where it was called the Elopocalypse. But many have pointed out, that the Finns might not have gotten as much of a deal out of it as Microsoft. CEO Stephen Eloptook stage at the company's "An Evening With Nokia" to explainjust why the deal is indeed fair.
You guessed it right - it's the money: "When you look at allof the value that we're contributing, the value transferred to Nokiais measured
in the billions, not the millions
," Elop noted. He didn't give exact figures over how Microsoft will transfer the value, but he purposefully dismissed the notion that he is the Microsoft "Trojan horse" at Nokia, which has been making the rounds these days.
Well, this answers some questions, doesn't it? Nokia's CEO also broke down the other benefits for Nokia among which the opportunity for the Finns to use Bing and Xbox. Elop also mentioned that Windows Phone will become dependent on Nokia's location-based services. Espoo will also benefit from advertising revenue through Microsoft.
In return, the list of benefits for Microsoft starts with the
royalties
the company will receive and ends with the non-exclusive nature of the deal, which would put Nokia in a very competitive environment. And it seems that it will be the number of "billions" Microsoft contributes that will be of crucial importance. What's your opinion on the agreement? Let us know in the comments and don't forget to cast your vote in our
poll on the topic
!
source: Nokia