Nokia still holds the top spot in phone sales, bada ahead of Microsoft's Windows platforms in Q2
24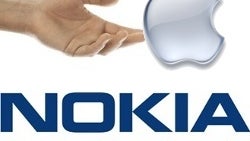 Nokia has entered a downward spiral in the last few quarters, but despite its quickly deprecating market share, the Finnish cell phone maker is still
number one in total cell phone sales
, according to a Gartner report based on end-users sales rather than units shipped by phone makers for Q2 2011. With a total of 97.87 million units sold in the quarter, Espoo occupies 22.8% of the market.
When it comes to
smartphone sales only
, Gartner's stats show that despite the fact that Apple dethroned Nokia as the top smartphone maker in terms of shipments, the Finns managed to sell more Symbian devices by slashing prices of older models.
The report however confirms the general decline in Nokia sales. To better illustrate the scale of Nokia's downfall come the 111.5 million phones the Finns sold in the same period last year, slipping by the whopping 13 million units.
"Even if Nokia launches a device by the end of the year, we don't expect a turnaround for this platform until second half of 2012,"
principal analyst at Gartner Roberta Cozza said.
Overall phone sales
also declined by 4.4% in comparison to last quarter, mostly due to the aftermath of the tragic earthquake in Japan, but year on year sales jumped from nearly 368 million in the second trimester last year to 428.66 million this in Q2 2011.
And this means that competition is not sleeping –
runner-up Samsung
will soon be literally breathing in Nokia's neck as it sold 69.8 million phones, now only some 28 million handsets behind. LG ranked third overall selling 24.4 million, followed by galloping Apple, which Gartner says sold 19.6 million devices.
But while those are the casual suspects in the industry, what used to be marginal
Asian companies
are picking up pace lately. Chinese ZTE jumped to the fifth place in overall phone sales last year and it's still there with some 13.1 million phones sold. That might not look like much, but it's nearly double the sales ZTE registered in the same period last year.
HTC, which focuses on Android and Windows Phone smartphones, ranks sixth and might soon outpace RIM. Shenzhen-based Huawei is also gearing up and might soon challenge Motorola, which is just ahead of it. The "others" section also grew in scale, now accounting for 35.8% of total sales.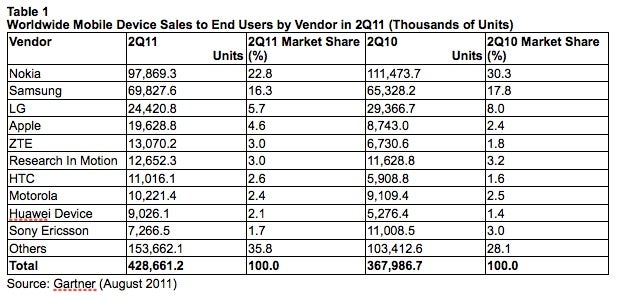 The vendor wars however don't quite grasp the whole picture. Smartphones' mushrooming growth shifts the focus to
platforms
where Android is king. With over 550,000 daily activations, it conquered 43.4% of the OS market in Q2, a stunning growth compared to its 17.2% in the same period last year. Symbian was second with 22.1% of the market, while iOS captured the third place.
However, it's Microsoft's platforms (including the old Windows Mobile and Windows Phone 7) lukewarm sales that might be discouraging for the Nokia-Microsoft collaboration. The platform
dropped behind bada
, which now took over as the fifth largest mobile OS. We wouldn't conclude anything yet though - Windows Phone Mango is coming up this fall and that's when we expect to see Microsoft's PR machine to start churning and sales to follow.

Nokia's decline has triggered a big shift in the industry, but can you see the big winner or loser in the long-term? Don't hesitate to share your opinions in the comments below.
Recommended Stories