Nokia sold 2.9 million Lumia Windows Phones in Q3 2012
87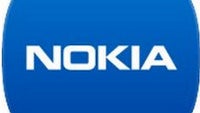 Nokia sold 2.9 million Lumia Windows Phone devices
in the third quarter of 2012, as sales of its Windows Phone-based smartphones
declined from a 4 million sales peak in Q2 2012
. Overall, Nokia smartphone sales stood at 6.3 million, and that means that Symbian sales stand at 3.4 million still outselling Windows Phone.
With more Windows Phone sales being sold and the share of Symbian rapidly diminishing, Nokia's average sales price (ASP) for smart device has also grown to 155 euro, up from 151 in the previous quarter.
But at the same time, the
average price of Lumias continues falling sharply
. From an average price of 220 euro per Lumia phone in Q1 2012 to 186 euro in the second trimester and now to the much lower 160 euro in the last quarter. Nokia was hoping to make a comeback in the United States with Lumia Windows Phones, but that obviously isn't happening and this quarter the company took an additional 50% hit in sales in North America.
Nokia Lumia sales in North America (including the U.S.) stood at the meager 300,000 units.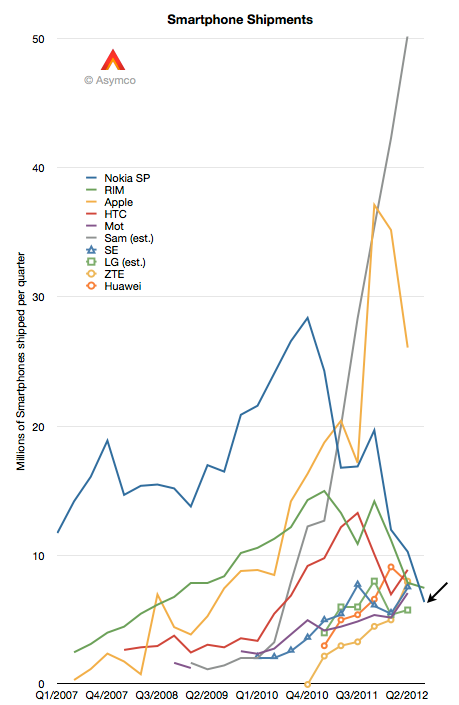 Nokia against rival smartphone makers.
"Q3 was a difficult quarter in our Devices & Services business,"
Nokia's chief executive Stephen Elop, the person who started the transition to Windows Phone, commented.
Nokia's feature phones headed by the Asha lineup continue sustaining the company's phone business throughout the transition. In Q3 2012, feature phone sales amounted to 76.6 million, up 4% consequentially, but down 15% when compared to the same period last year. Nokia Asha full touch phones sold 6.5 million, and those are too accounted as feature phones, of course.
Overall, Nokia's net sales stood at around $9.48 billion (7.24 billion euro). This means the company ended up around $754 million (576 million euro) in the red. This loss brings Nokia's net cash to some $4.7 billion (3.56 billion euro), down from $5.5 billion in Q2 2012. This is overall in line with analysts' expectations, the losses are only slightly larger than projected.
Next quarter will be very important for Nokia. The company launches its first Windows Phone 8 devices, the Lumia 920 with PureView camera and wireless charging and the more affordable Lumia 820. The Lumia 920 is expected to be an AT&T exclusive in its first months availability, competing with phones like the iPhone 5, Samsung Galaxy S III and the LG Optimus G.
source:
Nokia