Nokia releases new Glance Background app
14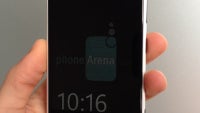 Still fresh from the Nokia Beta Labs comes Glance Background, an app that serves to enrich the functionality of the glance feature, a new incumbent, courtesy of the latest Lumia Amber update.
Unlike the core app, Glance Background adds... well, a choice of backgrounds to spice things up whenever you want to take a peek at the time without waking up your entire device. Keeping this battery efficiency purpose of the entire feature in mind, it shouldn't surprise you one bit that you're, of course, not getting anything close to a high-resolution reproduction, though it's nevertheless feels sufficient.
The best part of the new app is that it not only allows you to loop up to 4 different backgrounds, but you can also upload your own. The app does offer some editing options, though on a first glance those seemed rather pointless, at least in our short experience.
You can snap the app right away, if you're running the latest Lumia Amber software update. Unfortunately, if you're running the now super-popular Lumia 520 (or Lumia 652), you'll be missing out on the glance feature altogether.